PCVARE Combine PDF
Merge & Save Multiple PDF files into Single PDF Document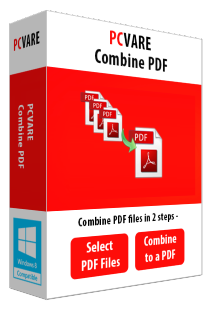 Adobe Reader is not required to combine PDF files
Merge, Join or Combine PDF along with attachments
Create single PDF with multiple pages after joining files
Combine multiple PDF files to Single Document at once in batch
No size limitation: Tested on 1000+ Files to add Multiple PDF in One
Preserve Formatting even if chosen to Save two PDF files as One
Support all Windows OS-Win 98, 2000, XP, 2003, Vista, 7, 8, 8.1, 10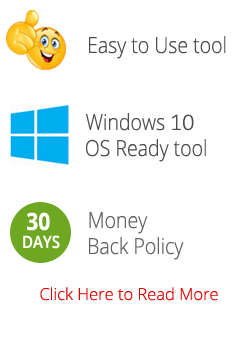 Features of PCVARE Combine PDF Tool
Dual selection option

If you wish to combine or merge only selective PDF files then use the "Add PDF File(s)" button to select files one by one. But if you have numerous of PDF files; then save time by selecting them in bulk. For this; save all the PDF files in 1 folder using "Add Folder having PDF Files(s)" button. It will lead to add multiple PDF files into one.
Complete PDF in Batch

If you have multiple PDF files and want to combine multiple pdf files into one adobe reader format i.e. to join all into single PDF file then try combine PDF tool which will let you save, add and concatenate multiple PDF files in one go. There will be no limitation on number of PDF file that you can merge to one with attachments.
Maintain Rich text formatting

During the process the software make sure that none of the data or content of the document is lost. The Software can easily save email formatting like-color, layout, text style, hyperlinks, and inline images of emails.
Workable with all Windows OS

The software can be easily used and installed on any windows operation system. It works smoothly with all Windows OS such as-98, ME, NT, 2000, XP, 2003, Vista, 7, Win 8, Win 8.1 etc.
All Adobe versions supported

You can combine PDF files created with any Adobe version, the software will support Adobe 11.0 & other editions. But you only need to have the PDF file in the machine there is no requirement of Adobe Reader installation.
Easy and Simple

The simple and easy graphic user interface makes it very easy to understand; which even novice users can work with. There are no complicated steps involved to merge multiple PDF files together.
Screenshots — Combine PDF Together
The screenshots of Combine PDF Together helps to understand how the software will work and looks. If you want to see it fully then click on the image to see the enlarge view that how to join PDF Files
Working Procedure of Combine PDF Together
To Join two or Multiple PDF files tool has made the simple method. Follow easier & simpler steps to combine PDF files . The process to combine PDF files is only 3 steps process with the help of combine PDF program
Download and Run the Tool to Join PDF Files
Follow the given steps one by one to simply merge or consolidate PDF files into one. Run the Software & Install
Download » Run » Combine PDF » Launch software
Step 1: Select Files to Add Multiple PDFs Together
The First Step is to Place & Select PDF files and for that there will 2 options –
"Add PDF File(s)" : With this option you can select PDF files one by one.
"Add Folder having PDF File(s)" :This option helps to select whole PDF files folder for once emails conversion processing at a time. It is a "saving time" option.
Select option which is helpful for you to Choose PDF files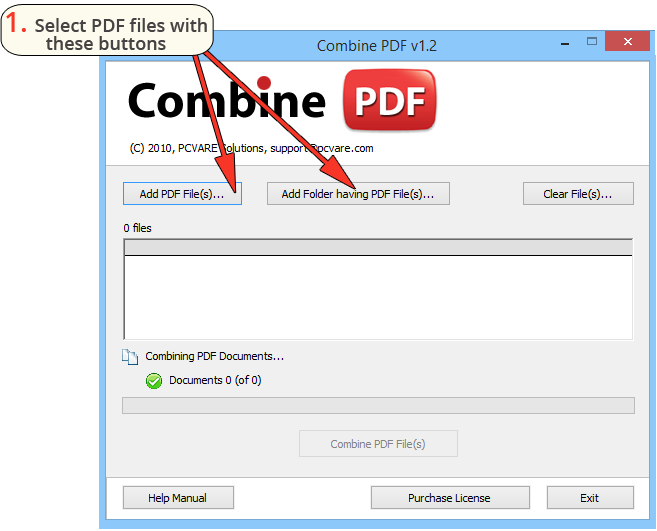 Step 2: Verify List & Convert PDF files
p>Now Click on
Combine PDF Files List
that all are selected or Not, then
Click on Convert message button, after open a new Window, so Choose any location to save converted pdf files. After that the Combine PDF conversion will Start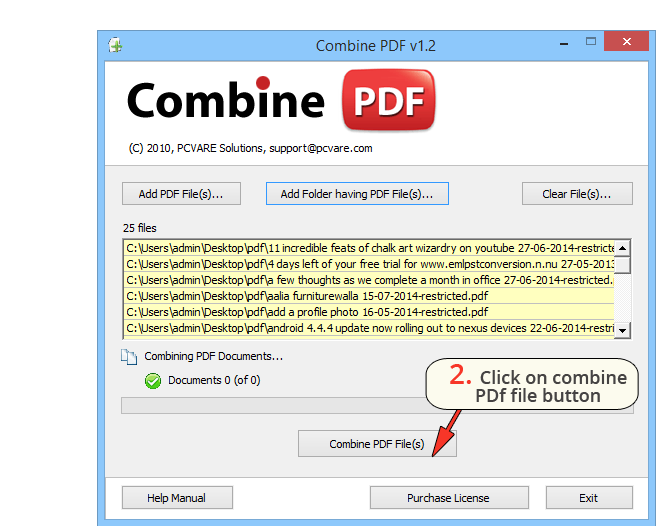 Step 3: Complete Process
Within a few minutes the Software will join and merge multiple PDF file in single file and then you can see (from where you saved them) that concatenated PDF file which have been combined in single PDF Adobe file.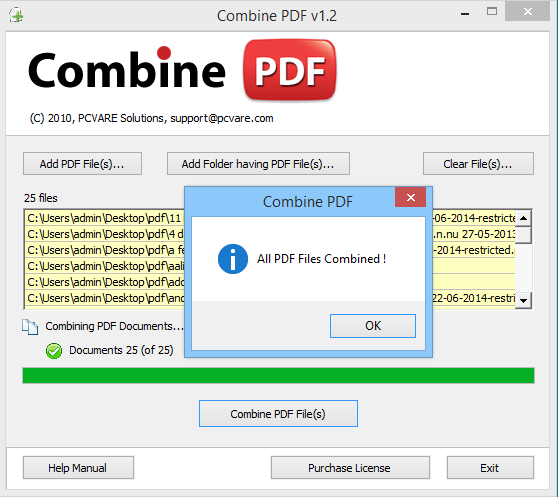 Watch Video to Merge Multiple PDF into One
To Join PDF Files Download Demo of Combine PDF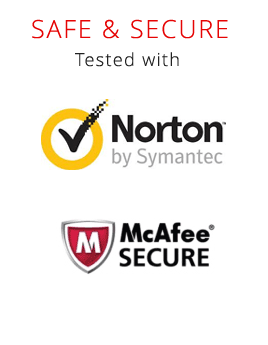 Download Demo Version
Start Downloading Now
Version: 2.1.0
Product Version - 2.1.0
File Size - 4.08 MB
Trial Edition Limitation - The Demo of Combine PDF to Merge multiple PDF is free to use, but it will leave watermark all over the concatenated PDF.
Frequently Asked Question — Combine PDF Tool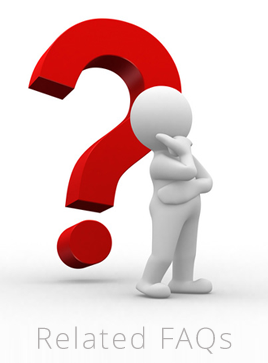 How can I Add multiple PDF files into one? Is there any way to merge multiple PDF files into one Adobe Reader document?
Yes, surely if you are looking forward to join PDF files together then you must take a trial of Combine PDF tool, it will help you to add and concatenated PDF Files.
Is there any limitation on PDF File size?
No, there is no limitation on PDF file size; you can save and concatenate any number of PDF files of any size.
Does it support new updated Windows Versions of Win 10?
Yes, it easily works with Windows 10 & all other below versions. User can easily Join Multiple PDF files on any Windows version.
Does the software keep the PDF images intact?
Any image that is embedded within the PDF files will be remain saved and embedded within the merged or concatenated PDF file.
Client Reviews
"Combine PDF really helped to merge multiple PDF files in a single file and I would like to recommend it to all if they ever need to merge PDF documents together. "
Robert, France
"This is a marvelous tool, which helped to merge multiple PDF documents in 1 document that too very quickly, truly thankful."
Maria, London
"PCVARE you are doing such a phenomenal job, I would like to say thanks to you and your team for creating the best tool. "
Richard, UK