PCVARE DBX to DOC Converter
Convert Outlook Express .dbx emails into MS Word .doc format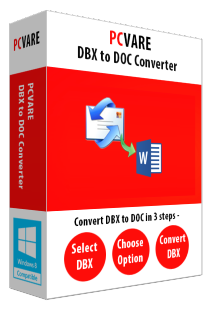 Convert multiple DBX file emails to .doc format in batch
Convert batch DBX folder at DOC format with embed attachments
No limitation of DBX file size – Tested with 19, 000 emails
Preserve DBX File Folder structure during procedure
Outlook Express installation not required for conversion
Supports all editions of Outlook Express: 5.0, 5.5, 6.0
MS Word is needed to open & view converted .doc files
Supports latest Windows 10 & also all below versions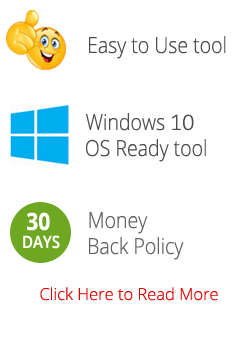 Important Features of DBX to DOC Converter
Provide Batch & Single Conversion:

It is possible to convert single or multiple DBX files into .doc format at once. With the Add DBX File(s) button, you can select DBX files one by one. With Batch option to you can Add Folder having DBX file(s) button at one time.
Supports conversion with attachments:

If the emails are having attachments, then software efficiently converts and save those attachments in a separate folder. It means all the attachments remain with you after conversion.
Preserve key element of Emails:

With this program you can easily convert Outlook Express emails along with all the properties like: To, Cc, Bcc, From, Sent & Received date, Attachments.
Maintain Original Email Formatting:

The software saves entire formatting like – color, layout, text style, font size, hyperlinks, and inline images of the emails. There will be no change in original formatting of email even after the conversion.
all Outlook Express & MS Word edition

The DBX to DOC Converter will successfully convert DBX files of Outlook Express- 5.0, 5.5, 6.0 etc. & open the .doc file in any MS Word editions: 2003, 2007, 2010 and 2013.
Easy and simple working procedure:

Within a 3-4 steps you will have the conversion done. This software only takes few minutes to complete the whole process of conversion.
Compatible with Latest Windows 10

The Program is created for Windows Platform so it runs on all Windows Operating System - Windows 10, Windows 8.1, Windows 8.0, Windows 7, etc.
Screenshots of DBX to DOC Converter
With the given screenshots, you can know how the software will look like during the conversion process.
How to Convert DBX to DOC
Here, step by step process about this software how it works is explained below. You can also enjoy after installing the software.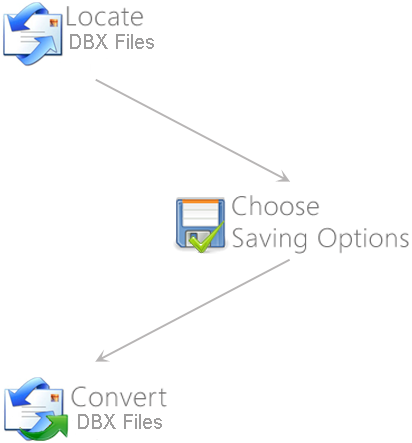 Step 1 - Select DBX Files
First Step for DBX to DOC conversion is to select .dbx Files
Step 2 - Check Selected Files List
Now Check Files List to verify Selected Files
Step 3 - Click on Convert Button
In last step, Click on Convert Button to start the Conversion process.
Watch Working Video
This video helps users to understand the working process of this software. In this video, working procedure is described as a live conversion.
Download Demo to Convert DBX files to DOC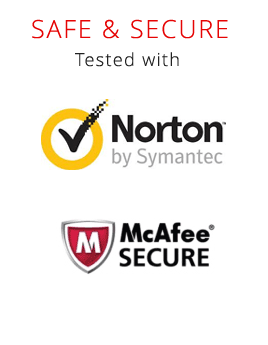 Download Demo Version
Start Downloading Now
Version: 1.3
Product Version - 1.3
File Size - 3.5 MB
Limitation -The trial version allows converting only 1 email from Outlook express DBX files to DOC. Just Download and check out the performance of the software
Frequently Asked Question about DBX to DOC Converter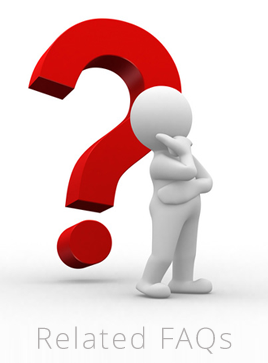 Is it possible to convert several number of DBX files in little time?
Yes, it is possible by the software because it provides an option to convert DBX files in bulk. It doesn't take too much time to complete the conversion.
What is the process to create DOC while a DBX file is having thousands of emails?
The software produces a single & new DOC file for each email of DBX file. It reduces your traversing time to fetch any particular file without any complication.
I want to save my emails' details exact. Can I do this?
Of course, you are allowed to do this with the help of this software. You can save entire details linked with DBX files and saved details like – Meta data, header details, attachments, formatting etc.
Is the installation of MS Word is necessary?
No, it's not important to have MS Word install in the system, during the conversion. But to open & view the documents you need MS Word; which comes by default with MS Office package.
Is the program workable with Windows 8.1?
Yes, you can definitely use it on Windows 8.1 machine; this program completely supports all the version of Windows.
Is there any limitation of size of .dbx files?
No, there is no Limitation on size of Outlook express (.dbx files) and software can convert unlimited emails from DBX files into .doc format.
Client Reviews
"It was a relief for me to convert the Outlook express emails to MS Document without wasting any time. It becomes possible only because of PCVARE DBX to DOC Converter."
Dakota Roberts, Spain
"After examining the trial version of DBX to DOC Software, I realized that this is the only perfect way to convert multiple DBX files at one time using its ability of Batch conversion."
William Hills, Germany
It is Great emails migration tool to export DBX files into DOC. Without any trouble, anyone can easily use because I am not technical user yet I handled it easily.
Beaman (New York)
The DBX into DOC Converter program has simple solution which helps to provide exact emails migration from Outlook Express into DOC file format.
Macallason (France)