PCVARE DBX to PDF Converter
Convert Emails from Outlook Express DBX files into PDF Format
No DBX File size limitation for conversion
Convert Batch DBX Files to PDF in one time
Convert DBX Files to PDF along with attachments
Supports all versions of Outlook Express 5.0, 5.5, 6.0
Each DBX file message will be saved as individual PDF
Workable on Windows 10, 8.1, Vista, 7, XP & all other versions
Any Adobe Reader version should be installed on machine to view PDF files after conversion
Specifications of DBX to PDF Converter
Batch conversion Option

The DBX to PDF Software works in two different modes. In Single Mode you can select each DBX file separately for conversion and in Batch Mode you can select "Add folder having DBX file(s)" to convert into Adobe PDF document.
Embed Attachments within PDF

The software will create a separate PDF file for each Outlook express email and will keep the attachments embedded within the PDF file. The attachments will remain in their original file type and will not be changed into PDF format.
Convert Complete Metadata

While converting Outlook express Emails into PDF format; the metadata information like to, cc, bcc, from, date & time stamp, subject line, etc. will be saved as it is. All the email address and other information remain intact.
Maintains all the Text Formatting

The original formatting of email remains unchanged which converting DBX mails to PDF. Whatever be the formatting; RTF or HTML, it will be retained by the tool. The Fonts style, font size, Links, Color, inline pictures etc. all remain intact.
Separate PDF for Each Email

The Software will create a separate PDF for each & every DBX File email. If you select multiple DBX files to convert into PDF, the software will create a separate folder for each DBX file and save each mail in a separate PDF file.
Supports All Outlook Express Versions

The Software can successfully convert emails of Outlook Express 5, 5.5, and 6.0 DBX files into PDF file. For this, Outlook express installation is not required and the software can save both configured as well as orphan DBX files.
Screenshots to Convert DBX files to PDF
Below 3 screenshots are available to take an overview on the procedure of this converter. You can also see how the product looks during the conversion process of DBX to Adobe PDF Conversion.
Working Procedure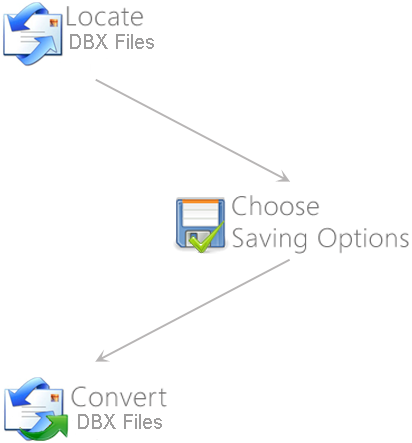 Step 1. Select DBX files
(a) Add DBX Files (s) – Select DBX file one by one, usng this option. To select multiple files at once, press Ctrl+Click on the .dbx file
(b) Add Folder having DBX File(s) –This button helps to select DBX file folder for one time conversion processing. It is time saving option.
Step 2. Click on Convert Button
After adding the DBX files, click on the convert button. The software will then prompt you to provide an appropriate location save the PDF files after conversion. Once you provide the location, it will automatically start the conversion.
Step 3. Complete the Conversion
As the conversion starts, within a few minute you will see that the conversion of DBX Files to Adobe PDF document finishes and an alert message will generate.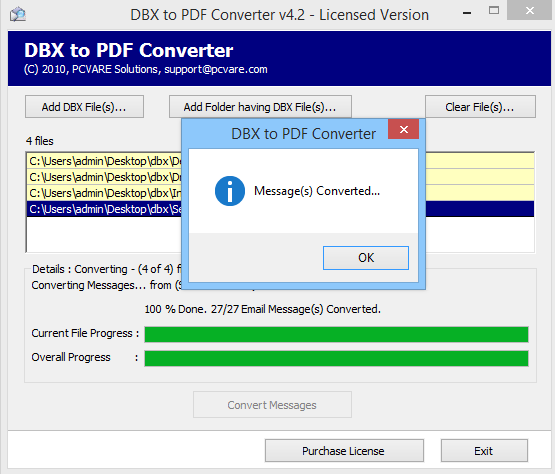 Watch Video to Convert Outlook Express to PDF, Working Steps
Download Demo to know How to Convert DBX files to PDF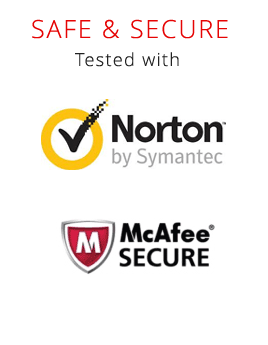 Download Demo Version
Start Downloading Now
Version: 1.3
Product Version - 1.3
File Size - 3.55 MB
Limitation -Trial Edition Limitation -The demo you will be able to convert first 5 DBX messages to PDF Format for testing.
Frequently Asked Question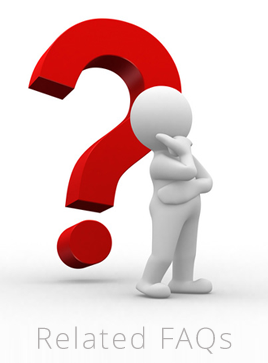 Does the software convert emails attachments into PDF Format?
No, it will not be able convert attachments files into PDF format, only the emails within DBX file will be converted into PDF format. The attachments will remain in the same format; which they were originally into.
Is it possible to convert DBX into PDF without Adobe Reader
Yes, you can convert the emails from DBX files into PDF without Adobe reader but to open and view those PDF file, Adobe reader has to be installed in your machine. Any version of Adobe acrobat reader will work.
Will 10 be supported by the Software?
Yes, the program will support 10 and all below version of windows 10 OS.
Is Outlook Express installation is necessary?
>No, Outlook Express installation is not necessary to perform conversion. The software can convert both configured and non-configured DBX files.
Client opinion
"Before using this software, I faced many problems while converting OE emails into PDF but when I used PCVARE DBX to PDF Converter it has quickly converted bunch of Outlook express emails and saved them in adobe PDF format."
John Kerry, Spain
"Great tool with great support has made DBX to PDF converter worth using. I have been looking for such solution from a very long time and my search finally comes to an end. Thanks again!"
Joe Biden, England
Fine Tool. I got complete emails from Outlook Express into PDF. It GUI is very simple, anyone can easily handle.
Harry Smith (New York)
It is great program and absolutely trustworthy to transfer emails from Outlook Express into Adobe PDF. It saved all information as it was from DBX into PDF.
Endi (United States)