PCVARE EML to HTML Converter
Convert Multiple Outlook Express, Windows Mail, Live Mail EML Files to HTML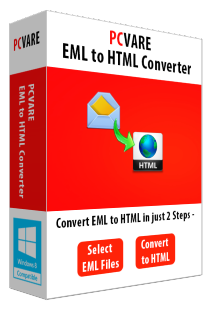 Convert EML files into HTML in batch
Preserves the original email formatting
Save each EML file in a separate HTML file
Save all converted files along with attachments
No Size Limitation, Tested on 15,000+ EML files
Supports to convert any orphan EML files to HTML
Supports all Versions of Windows OS like Windows 10, etc
Supports to convert EML files from various email clients to HTML
Features of PCVARE EML to HTML Converter
Batch EML to HTML Conversion:

The software allows you to convert multiple EML files into HTML format in batch. With "Add Folder" option, you can quickly convert multiple EML files into HTML at once.
Convert all Email Information:

The software is able to convert all emails along with the information like: To, Cc, Bcc, from email addresses, Sent & Received dates, and Attachments etc.
Preserve all text formatting:

It also preserves the original formatting at of Outlook express emails while converting EML filesto HTML. All the hyperlinks, font style, color, inline images remain intact within the email in HTML format.
Save Embedded Email Attachments:

While converting the EML to HTML the software will save all the attachments into a new folder. For each attachment there will be a separate folder having the attachment file in it.
Show Real Time Progress:

As the conversion begins, the software will show you the real time progress of EML files. You can view the name of email along with the increasing count of EML files being converted.
Workable with all Windows OS:

This Software can easily work with all versions of Windows OS- Windows 8.1, Win 8, Win 7, Vista, 2003, 2000, XP, 98 etc.
Screenshots of EML to HTML Converter
To know how the software works and look like, take a quick look at the Screenshots of the product:
Working produce for EML to HTML Conversion
Step 1: Locate & Select EML Files
Add EML file(s): This option helps to choose EML files one by one for conversion; you can apply the Ctrl+Click technique to select multiple files.
Add Folder having EML File(s): This option allows you to choose the whole folder containing EML files at once. : This option allows you to choose the whole folder containing EML files at once.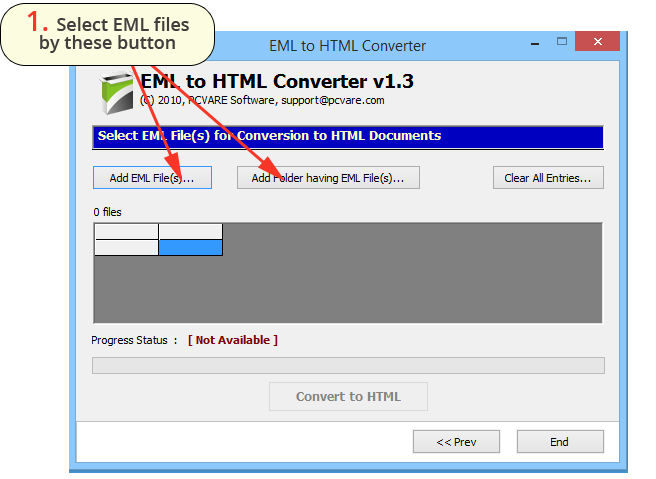 Step 2: Check List & Convert EML files
Now confirm the EML files List whether all the emails selected or not.
Next, Click on Convert message button and a new Window will open. Here you have to provide a location to save converted HTML files. After that the EML to HTML conversion will begin.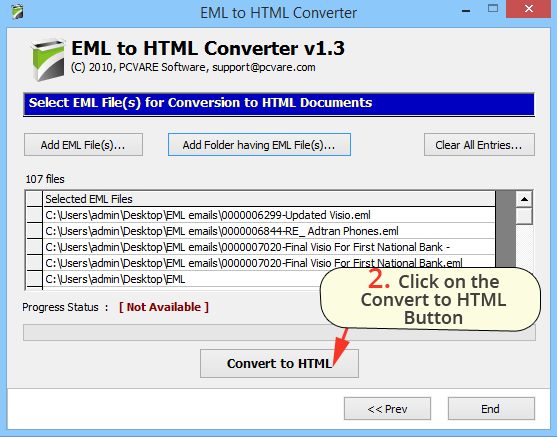 Step 3: EML to HTML Conversion Completes
At the end, Software will take few minutes to complete the full conversion process from EML to HTML and will show you an alert message immediately after conversion finishes.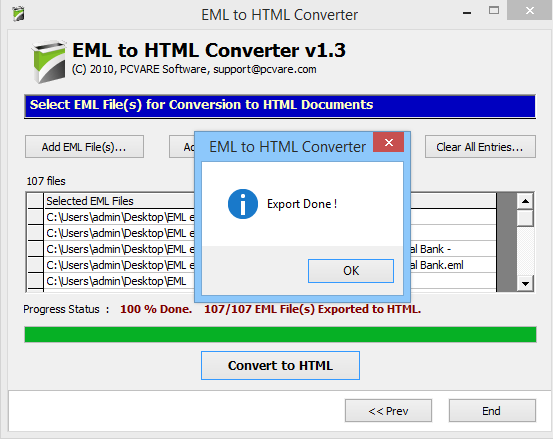 Working Video – Complete process
Here is another chance to know about the working of this tool which is given in this video as a live method to convert EML files into HTML format.
Download Trial for EML to HTML Conversion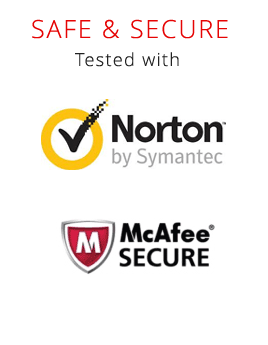 Download Demo Version
Start Downloading Now
Version: 1.3.0.0
Product Version - 1.3.0.0
File Size - 6.11 MB
Limitation - Here, a demo version of this software is provided by which you can understand the entire working procedure of this tool. With the help of this version, you are allowed to check out the capability of this tool by converting 1 EML file into HTML format. After conversion, you can compare original file and resultant file for any dissimilarity.
Frequently Asked Question about EML to HTML Converter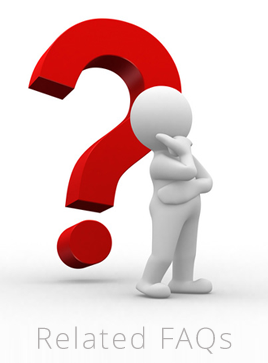 Will the software show that which file is converting now?
Yes, this software has real time progress functionality. It shows email's name and number of .eml files have been converted.
Is there any facility by which I can convert only my selected emails?
Yes, you are allowed to convert only your selected emails into .html format. It has an option named as "Add EML file(s)" by which only wanted emails can be converted.
I want to save my emails' folder hierarchy exactly same as it is. Would it be possible by this software?
The software supports to save emails' folder layout. You will find the layout same as the emails were stored in manner before conversion.
Is the software capable to convert larger data with over 10000 emails?
The tool has no restriction about the file size. It can convert any number of EML files in HTML format in a very short time period.
Is it supported by Windows Operating System?
Yes, it is supported by all Windows OS- Windows 8.1, Win 8, Win 7, Vista, XP, 2000 and 8.1.
Does it convert emails with attachment into HTML?
Yes, it can simply convert emails with attachment into HTML into a separate folder.
Will it convert orphan EML files?
Yes, the software allows converting emails which is created on another machine or is not configured.
Client Opinion
"PCVARE EML to HTML Converter has provided me batch option that quickly converted 10,000+ EML emails to HTML at once without missing any relevant information. "
Maria, London
"When I found the software I really enjoyed the working process of this Converter; it can simply convert EML files into HTML file format without wasting much time."
Daniel George, (New York)
Its conversion process is very simple and provide complete result from Windows Live Mail into HTML.
Make Duen, (France)
I am happy by the procedure of PCVARE Soulution tool that is amazing program to convert Vista Mail into HTML in few mouse clicks.
Barden George, (Spain)