PCVARE EML to MBOX Converter
Convert EML to MBOX from Windows Live Mail, OE, eM Client, Windows Mail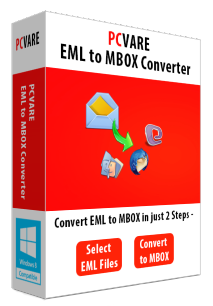 Save & embed attachments within emails
No File Size Limitation, Tested on 10,000+ files
Maintains EML files folder structure during process
Offers option to save converted file at any location
Supports all Outlook Express editions (6, 5, 5.5) conversion to mbox
Supports all MBOX format of Mac Mail, PocoMail, Thunderbird, Entourage, The BAT, Eudora, NetScape Mail, Mail Copa, Turnpike, Earth Link, Berkeley, SpiceBird Mail,
Specifications of EML to MBOX Converter
All EML Files are Supported for conversion

It Supports entire EML files of Windows Mail, eM Client, Outlook Express, DreamMail, Windows Mail to convert into MBOX. Use for any EML files conversion to MBOX with complete result.
Supports all MBOX Apps. for conversion

As like it supports all EML files as it also supports entire MBOX based application so users can easily use to convert eml files into Thunderbird, Mac Mail, PoCo Mail, Entourage, The BAT, Turnpike, NetScape Mail, Eudora, Mail Copa, SpiceBird Mail, Earth Link, Berkeley etc.
Supports to Save entire Properties

It convert eml files to mbox with entire email part – read status, metadata (from, to, bcc, subject), unread status, receiving date, sent time, or all other information which emails have.
Preserve all Formatting & Attachments

It save entire Formatting – Color layout, font size, text style, etc. If user have attachments then it also save entire email attachments and all images.
Friendly User Interface for Conversion

The Software is created advance techniques yet it can be use by any Home or organization user and it is absolutely safe from any type of virus attack or Trojan attack. So use the tool with free mind and complete trust.
Supported all Windows Platform

It is compatible only for entire Windows OS (10, 8.1, 8, Vista, 7, 2000, XP, etc). If you use another OS and need this solution then firstly use this tool in Windows Machine (64 &32) then by pen drive or other external device, you can keep converted mbox files into other OS like Mac.
Batch Conversion Option are Supported

Here, you can use Batch option to select entire EML files at once for quick conversion while Single mode is also available to select single emails and provide conversion one by one.
Save Emails in Previous Folder Structure

It convert EML files to MBOX in previous email folder structure – inbox, outbox, draft, etc. So now don't need to worry about how to search emails after conversion.
Screenshots of EML to MBOX Converter
To get the complete EML 2 MBOX Conversion, Buy the Software that is completely safe, simple solution. To view complete look of the Software for knowing about how it looks and works, see and click to large some Screenshots –
Working Procedure to Convert EML files to MBOX
Step 1: The First Step is to Locate & Select EML files and for that there will 2 options
Select Email files(s): This option helps to select EML files separately for conversion or press Ctrl+Click on eml files to choose several EML files at a time.
Add Folder having Email Files(s): It helps to select whole EML files folder for once emails conversion processing at a time. It is a "saving time" option.
Choose the option which is useful for you to Select EML files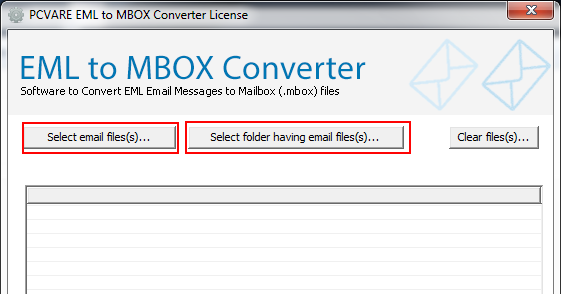 Step 2: Check List & Convert EML files
Now Check the EML files List that all are selected or Not, then
Click on Convert button, after that there will open a new Window, so Choose any location to save converted mbox files. After that the EML to MBOX conversion will Start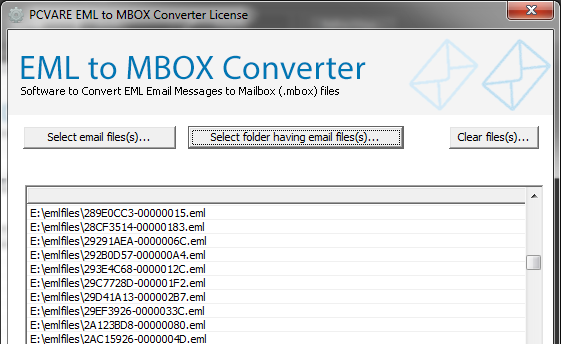 Step 3: EML into MBOX - Complete
The Software will take few minutes to complete the conversion process then you can easily import MBOX supported email Client — Earth Link, Mac Mail, Thunderbird, Entourage, PoCo Mail, Eudora, The BAT, , Turnpike, Mail Copa, SpiceBird Mail, Berkeley, NetScape Mail, etc.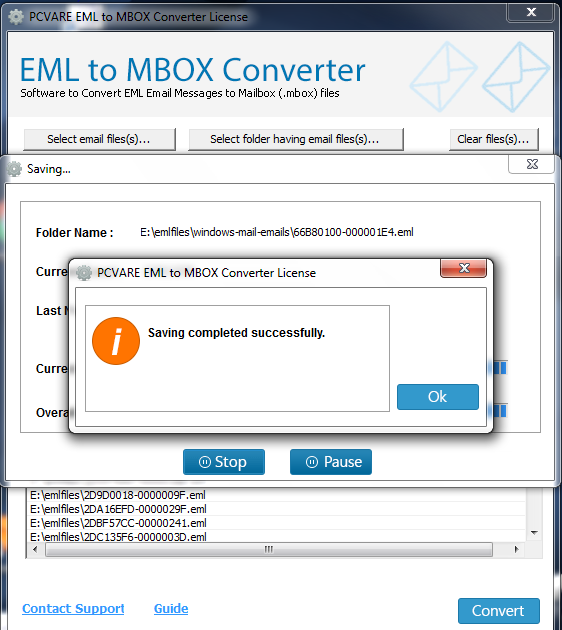 Watch Video for EML into MBOX Conversion, Working Steps
Download PCVARE EML into MBOX Converter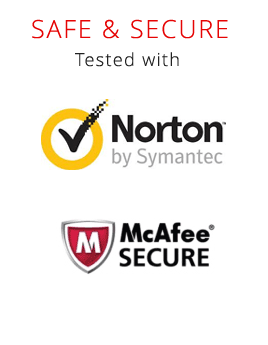 Download Demo Version
Start Downloading Now
Version: 7.3
Product Version - 7.3
File Size - 3.0 MB
Limitation -Trial edition supports only 25 EML files to MBOX conversion at free of cost.
Frequently Asked Questions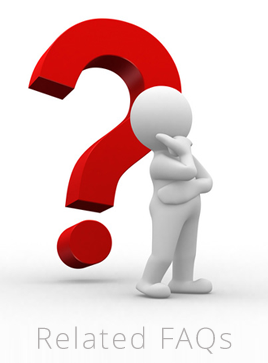 Troubleshooting FAQs about EML to MBOX Converter
How to export eM Client emails to Thunderbird?
First of all, you have to export your eM Client emails into .eml format then use this tool to convert emails from .eml format to .mbox format. These converted .mbox files can easily be opened in Thunderbird by importing them.
I have over 10000 .eml files of Outlook Express. How can I convert them into Thunderbird without wasting too much time?
The tool is in the market which is invented to save users' time by providing batch mode option. In this option, you are allowed to add any number of .eml files at a time and this tool converts them in just few seconds.
How to Convert Windows Live Mail (Windows 7 OS) to Apple Mail Mac OS?
This software easily converts Windows Mail emails into MBOX in Windows 7 OS then using pen drive, users can keep converted MBOX files into Mac OS and then they can easily import into Apple Mail without any worry.
Is it supported in Mac OS or other Operating System?
No, it supports only Windows Machine; you can use for running on Windows OS. Using pen drive, you can keep data into Windows Machine and then use it for conversion.
How to convert OE to Thunderbird from one Windows PC to another PC?
Collect EML files from Outlook Express by drag & drop process. Using pen drive, transfer all eml files in another one PC. Now use the tool to convert eml to mbox and then copy entire converted mbox files and paste into Thunderbird storage folder location.
Does it support for converting EML Outlook Express 6 to Thunderbird?
Yes! It supports entire Outlook Express edition – 5.5, 5, 4.5, 6 etc.
Client opinion
"I had used the EML to MBOX Converter to convert 1000+ Windows Mail emails to Mac Mail and my experience was absolutely awesome."
Dayna, Spain
"It is really easy and safe solution and it provides complete guidance for Live Mail to Thunderbird conversion. Thanks PCVARE for giving complete solution."
Robert, France
I worked on PCVARE EML into MBOX Converter and I felt that it is good email conversion tool. Basically I used it to convert Outlook Express emails to Thunderbird and I wanted quick solution.
MakeDuen (New York)
Really it provided complete conversion solution within few minutes to convert Outlook Express .eml files into Mac Mail .mbox file format. I am 100% satisfied with this solution.
Philips (Amazon)