PCVARE Incredimail Converter
Convert Incredimail to MS Outlook PST, EML, EMLX, MSG & MBOX Mailboxes
Convert multiple/batch emails from Incredimail IMM files.
Supports conversion of all Incredimail identities.
Convert Incredimail emails with all attachments.
Maintains original folder hierarchy of IMM files.
No IncrediMail Installation Required.
No Files Size Limitation; Tested with 35GB+ files Conversion
Support all MS Outlook (32 & 64 bit) editions for IMM to PST.
Gives multple options to convert Incredimail IMM files - EML, EMLX, PST, MSG, MBOX
Allows you to convert emails to popular email clients like Outlook, OE, Windows Live Mail, Thunderbird, Apple Mac Mail, Entourage, Eudora, SpiceBird Mail, The BAT!, Turnpike, Mail Copa, NetScape Mail, Pocomail, Pegasus
Specifications of Incredimail Converter
Multiple Conversion Options

Convert IncrediMail IMM files into MBOX [Mac Mail, Thunderbird, Entourage, Evolution], PST [MS Outlook] or EML [Windows Live Mail, Windows Mail, Outlook Express], format.
Batch IMM Files Conversion

Convert batch of IMM files or the whole folder containing multiple IMM files at once using the "Add Folder" option made available with the program.
All attributes are well maintained

IncrediMail Conversion is performed with all email attributes such as delivery recipient [to, cc, from], subject, date & time stamp.
Save all email attachments

It converts IncrediMail emails with attachment files of any format. Also maintains the formatting of emails intact & does conversion of Rich-Text [RTF] & Plain text/HTML into other format.
Generates New Output Files

The tool does not overwrite the previously saved emails. It creates new PST, MBOX or EML file depending on the saving format chosen to save converted IMM files.
Maintains Email Formatting

The IncrediMail Converter Software retains the formatting (Rich-Text & HTML) of the IMM messages; you can view the emails in exact formatting after the conversion is completed, including hyperlinks & embedded images.
Convert emails to MS Outlook

View IncrediMail messages in MS Outlook, simply by converting IMM files to PST format. Open converted PST file in Outlook (32 & 64 bit) 2013, 2010, 2007 & 2003. Incredimail to Outlook»
Convert emails to Windows Mail/Live Mail

By choosing the EML format for conversion, you can view the IMM files in Windows Live Mail as well as Windows Mail and also Outlook Express. IncrediMail to Windows Mail/Live Mail »
Convert emails to Thunderbird

By converting IMM files to MBOX format you can later import them in Thunderbird also, as it supports MBOX format so viewing IncrediMail emails will not be a problem. IncrediMail to Thunderbird »
Convert emails to Mac Mail

Also perform conversion from IncrediMail to Mac Mail, convert IMM files in MBOX format then move them into Mac Machine to view emails in Mac Mail. IncrediMail to Mac Mail »
Convert IMM to MSG

After Converting IMM to MSG, you can easily drag & drop converted MSG files into Outlook and then you can use, edit, view IMM files to MSG with exact formatting & embed attachments. Read More»
Convert IMM emails to EMLX

After conversion of IMM to EMLX, you can view or use EMLX files to Mac Mail by drag & drop method. Using this method, you cannot need to import or export files into Mac Mail.
Supportive of Windows OS

You can run the program in any Windows operating system like – Windows 8, Win 7, Vista, XP, 98, 97, NT, ME, etc.
Screenshots of the IncrediMail Converter
As for getting the perfect IMM conversion solution, the ability of the tool about providing the BEST outcome on converting IncrediMail to EML, MBOX & PST has never been in question. Now, here is the chance for you to catch up the Screenshot of the tool, as well-
Know How the Software Works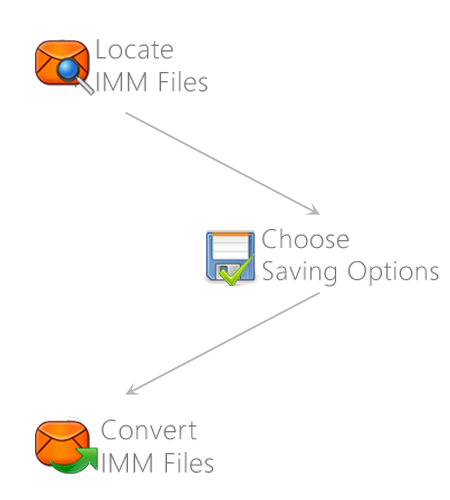 Step 1 - Locate, Select IMM Files
First Step is to locate & select IncrediMail email files. At this step, you can select IMM files in single or batch mode.
Step 2 - Choose Saving Options
After selecting IMM files, you can choose saving option. There are 3 saving options available, EML, PST & MBOX files.
Step 3 - Convert IncrediMail IMM
Click on Convert button to start conversion procedure for Converting IncrediMail IMM files in your chosen format.
Watch Working Video for IncrediMail Conversion
Download Software to Check out the Efficiency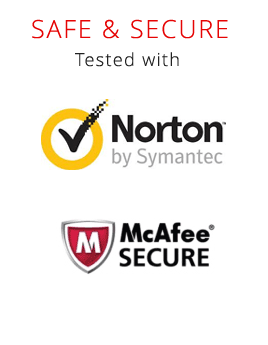 Download Demo Version
Start Downloading Now
Version: 6.9
Product Version - v6.9
File Size - 16 MB
Limitation - Demo edition only supports to convert 25 emails from each IMM folder.
Frequently Asked Question about IMM Conversion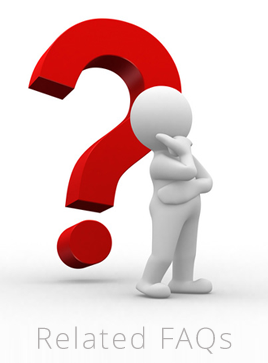 Generic FAQs
What is IncrediMail?
It is a highly advanced featured program which helps emails to look livelier and more attractive with special features like – Animations, Hand written signature, 3D Effects, Visual Effects etc. It saves emails in its default file format i.e. .imm extension.
How to get .imm files from IncrediMail email app?
The .imm formatted files are found at its storage location that can be navigated from the given below steps-
Launch IncrediMail application
Go to Tools » Options
Select General tab » Data Folder Settings
Copy the given location path opened in new alert box & Paste it in search address bar -
C:\Documents and Settings\Administrator\Local Settings\Application Data\IM\Identities
I don't have so many IncrediMail Emails then why should I use IncrediMail Converter to convert into MS Outlook?
IncrediMail doesn't provide any facility for emails but it has only option to export contacts. There is no option available to export emails to another email application then IncrediMail Converter will help you to solve this.
Troubleshooting FAQs
Is it compulsory to have IncrediMail install in the system?
Tool does not require IncrediMail installtion to convert IncrediMail IMM files. You only need the IMM files; installation or non installation of IncrediMail does not make a difference.
Does the Software convert .iml files of IncrediMail 2.5?
No, the software does not convert .iml files of IncrediMail 2.5.
Will the software work in Windows 8.1 & convert emails in Outlook 2013?
The program supports all Windows edition, including Windows 8.1 & you can convert IMM files into Outlook 2013 & previous Outlook editions.
Will the software convert IMM files from multiple IncrediMail accounts?
Using our software you perform IncrediMail emails conversion from any number of accounts into MBOX, EML or PST format.
Client Testimonials
"I used PCVARE product for the first time. I was having problem getting my IncrediMail mails to Windows Live Mail, but hats off to IncrediMail Converter that converted 50 of my IMM folders into Live Mail format. For any future reference PCVARE will always be my first choice"
Cairo Basurto, Spain
"IncrediMail Converter has suited me the best. It helped me with IncrediMail data conversion to Thunderbird. I would like to convey my gratitude to the support team of PCVARE who have been providing me necessary help & guidance all the way."
Damien Rossi, England
I have tried few Incredimail to Outlook conversion tool, which are available to convert my IMM emails to outlook, but fails to get maximum satisfaction. Your Email converter software works best for me.Thanks, I recommend your tool to others.
Elwin Mathew (Los Angeles)
Its really a great Software, it gives me unbelievable results which I never thought. Thanks for the great customer support!!!
Andreas Kropf (Los Angeles)