PCVARE MBOX to PST Converter
Convert MBOX files in batch mode into MS Outlook 2013, 2011, 2010 & 2003 ".pst" format
Batch conversion of MBOX files into Outlook
Convert files to UNICODE Outlook PST format
Convert MBOX to PST with accurate formatting
Also keeps the attachments of the emails intact
Software has compatibility with all Windows OS
Move mailboxes from various Email Clients to PST
Also convert MBOX files to EMLX, EML & MSG format
No file size limitation – tested using 2500+ mbox files
Specifications of MBOX to PST Converter
Supports Multiple MBOX Email client

Program perfectly does conversion from Entourage, Eudora, Mac Mail, Spice Bird, PocoMail, Mac Mail, Postbox, The Bat, Berkeley, etc.
Export MBOX to Outlook PST File

The tool will convert MBOX files into UNICODE .pst format which can be imported in Outlook 2013, 2011, 2010 & 2003.
Export Mailbox to EML

The tool also have option to convert mailboxes into .eml format. It means you can access .mbox files also in Live Mail, Vista Mail & Outlook Express.
Convert Mailbox to EMLX

Facility for conversion to .emlx format is also available with the program. You can access mailboxes in Mac OS X Lion, Leopard, Snow Leopard, Mountain Lion, etc.
Convert Mailbox to MSG

If you want to access mails in Outlook, Document management software & Forensic tools, than you can convert the MBOX files to MSG format also.
Save emails with Attachments

Along with the emails from mailboxes the tool also transfers the attachments files. There format & size does not matter, everything will be kept as it is.
Maintains Formatting & Meta-Attributes

While performing the task the software make sure to keep the RTF as well as HTML format of the emails intact & also maintains the metadata elements of the emails.
All Windows OS supported

Without any worries you can perfectly export MBOX file to PST in any Windows OS you want, like: Windows 8.1 8, 7, XP, etc.
Screenshots of MBOX to PST Converter
Have a look at the working screenshots of the software, using this you can easily perform conversion without loss of any data in the process.
Easy procedure to convert MBOX files into Outlook PST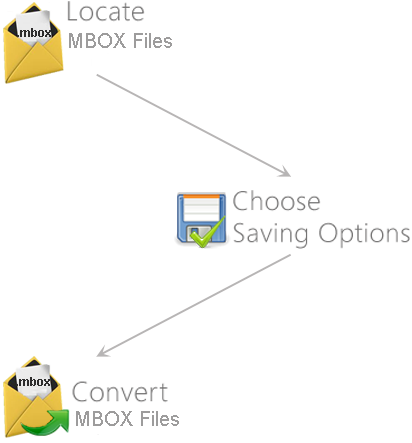 Step 1 - Locate & Select MBOX Files
First Step for MBOX to PST conversion is to select .MBOX Files by Open Button
Step 2 - Choose as .PST for Saving Option
After Selecting MBOX Files, Click on Save Button then Choose .pst as saving option. After that choose saving location.
Step 3 - Click on Convert Button
Finally Click on Ok Button to start the MBOX files into PST Conversion which will be completed within few minutes.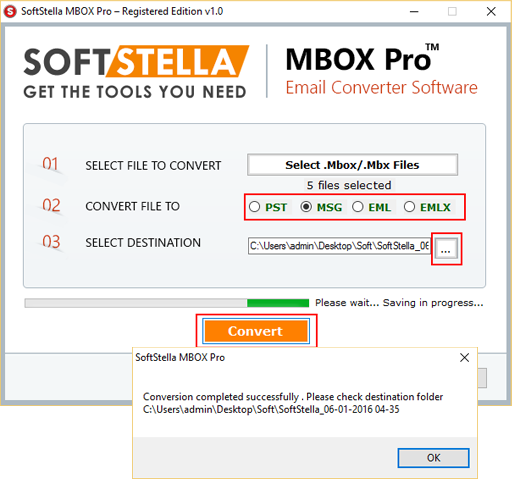 Watch Working Video for MBOX to PST Conversion
Try the MBOX files conversion to PST for FREE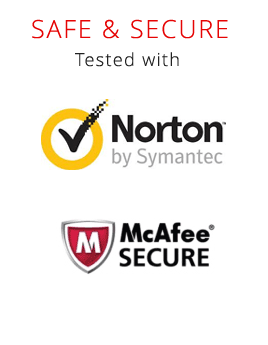 Download Demo Version
Start Downloading Now
Version: 1.0
Product Version - 1.0
File Size - 2.72 MB
Limitation -Demo version is just the right way to know all about the tools working. With demo you can convert 25 messages of MBOX files for free.
Frequently Asked Question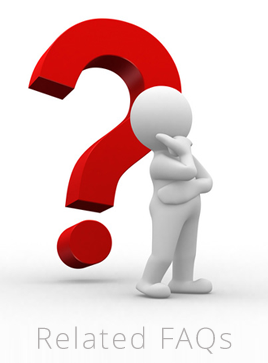 Can I convert MBOX files into Outlook 2013?
Yes, without any issue you can convert MBOX files into Outlook 2013 (32-bit) PST file.
I want to export MBOX to PST with the help of this tool, can this tool perform unlimited conversion of MBOX data to Outlook PST format?
Yes, the tool is able to migrate MBOX to PST & it is possible to migrate plenty of files with the help of MBOX to PST Converter. The licensed version of the tool is able to export MBOX file format to PST Outlook 64 bit without any great issue.
Why I am getting the message "Outlook Session creation error"?
If you are getting this message while doing the conversion from MBOX to PST, then it means you do not have MS Outlook install or an account configured in it.
To run the software you must have both mention task done.
Can I convert MBOX files into Mac OS X Snow mail?
Yes, you can do that, simply choose the .emlx option for conversion then you can access the files in Mac OS X Snow Mail. But remember you will have to complete the conversion in Windows OS, then move the converted files to Mac OS & access them in Mac OS X Snow Mail.
Client Reviews
"This program is really amazing. It hardly took me few minutes to get all my .mbox mailboxes moved into Outlook 2010 & that with all emails attributes."
Dakota Roberts, Spain
"Now that's I had not expected, this program helped me move my Thunderbird MBOX files into Eudora in batch, which saved me lots of time. Thanks PCVARE."
William Hills, Germany
I had used this solution and in fact I came out from the major MBOX into PST conversion problem by using the tool. It is quick MBOX emails conversion tool.
Amandon (New York)
The MBOX into PST Converter program has perfect emails conversion process to move MBOX files from PocoMail to Outlook 2010.
Macallason (France)