PCVARE MSG Contacts to PDF Converter
Batch Convert Multiple MSG Contacts to Adobe PDF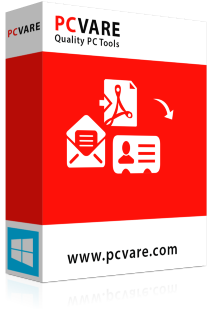 Allows to convert multiple MSG files in Single & Batch mode
Convert and save each Outlook MSG Contacts into PDF format
Supports to Export both UNICODE or ANSI Outlook MSG Files
No File size Limitation: Tested on 18, 000+ MSG Contacts into PDF
MS Outlook Installation is not necessary for Contacts conversion
Runs on all Windows OS –Win 98, 2002, XP, Vista, 7, 8, 8.1, 10 etc.
Save Contact Information like - Name, Email, Address, Fax, Websites, Activities, and Photo.
Features of MSG Contacts to PDF Converter
Dual Conversion Option:

With Single mode you are allowed to add MSG File(s) one by one or using batch you can Add Folder having MSG File(s) at once without losing any important details of MSG Contacts.
Save all Contact Details to PDF:

The Software simply convert & save all contact information as-Name, Email, Address, Fax, Websites, Activities, Android Mobile, and Photo details of Outlook contacts in Adobe PDF.
Maintain Formatting of MSG Files:

The software allows you to preserve all (Rich-Text or HTML) formatting like: Text Formatting, font size, background, hyper-links, embedded images, color, etc. There will be no change in the original styling of MSG files.
Maintain Folder hierarchy

If you have saved contacts in folder or sub- folder then while converting the MSG files into PDF; the software will maintain the original folder hierarchy and create the PDF files at same folder location.
Compatibly with all Windows OS:

The software can easily run with all Windows Operating systems – Windows 98, 2002, XP, Vista,7, 8, 8.1 and also 10.
Works with all Outlook versions MSG files

The tool can easily work with all MSG files of Outlook 2016, 2013, 2010, 2007, 2003 and all below versions.
Screenshots of MSG Contacts to Adobe PDF Converter
Here, you can see 3 screenshots is available, just click on these screenshots of MSG contacts into PDF converter to see its enlarged version. How it looks and works during the procedure of conversion.
Steps to Convert MSG Outlook contacts to PDF
Some steps with images are provided down and given an opportunity for users to learn the method what is the steps to work with this software.
Download and Launch the Tool
Follow the given instructions step by step to simply convert Outlook MSG contacts to PDF Adobe. Run the Software & Install
Download the software » Run » Launch » Start
Step 1: Add MSG Contacts
Click on Add Folder having MSG File(s) to select the Outlook Contacts files. This option helps to choose whole files within a folder at once.
Add MSG Files (s) –Using this option to select MSG contacts one by one or,
Add Folder having MSG File (s)–Using this option to selected multiple MSG contacts at once without any doubt.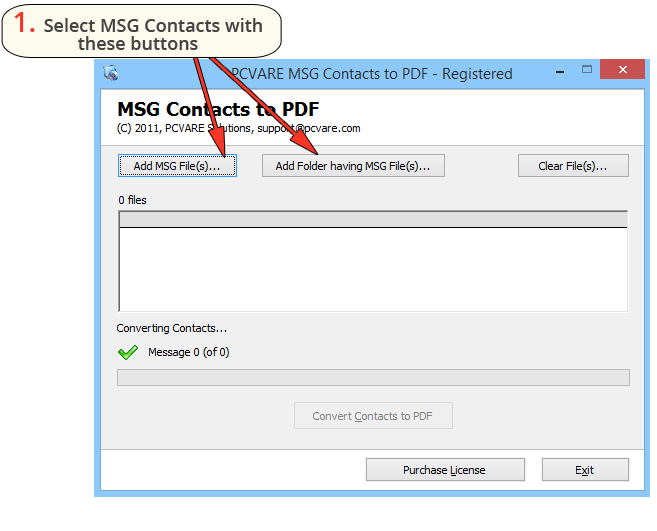 Step 2: Verify & Click on Convert
Verify MSG contacts list that all are selected or not then Click on "Convert Contacts to PDF" to start the conversion process.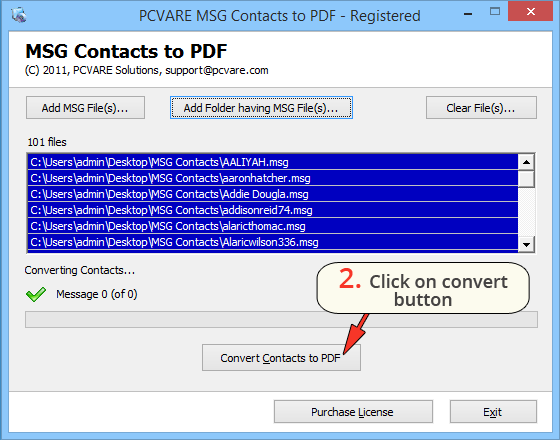 Step 3: Complete Process
As the MSG contacts into PDF conversion finishes the software will show you an alert message like "Conversion Completed"
Then you can easily get entire MSG contacts into PDF format with original formatting & other details.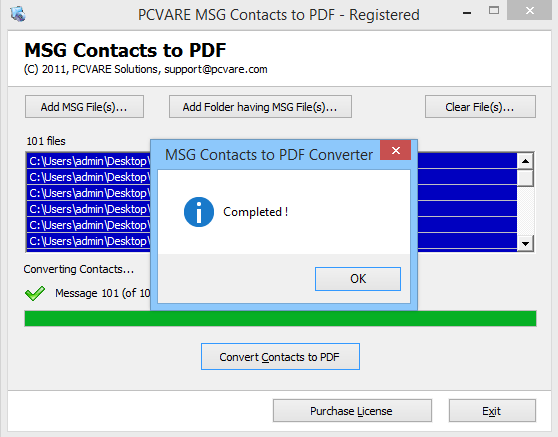 Watch Video for MSG Contacts 2 PDF Conversion
Users are allowed to learn the working approach of this software by this video that is uploaded with the exact functionality.
Get Trial of the Software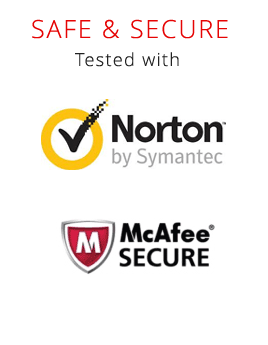 Download Demo Version
Start Downloading Now
Version: 3.6.0.0
Product Version - 3.6.0.0
File Size - 4.26 MB
Trial Edition Limitation -At the time of testing MSG contacts to PDF Converter, you are permitted to convert up to 5 contacts to PDF without any cost.
Frequently Asked Question about MSG Contacts to PDF Converter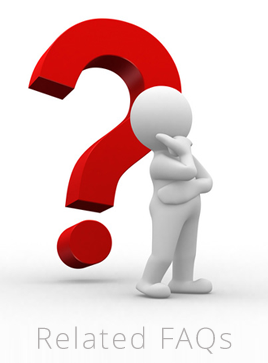 Genric FAQs
What is an MSG Contact?
This type of contact is saved in Microsoft Outlook which can save entire details regarding contacts. It can contain images, first name, last name, email address, home address, contact number etc.
What is the process to get MSG contacts from Outlook?
There are dual procedures to get MSG contacts from Outlook and those are:
Just by dragging & dropping a contact
By using Save as… option then choose the file type as - .msg format
After navigating the storing location in above both procedures, you will find the contacts in MSG format.
How can I search a particular contact in PDF file?
The software provides a functionality i.e. PDF creation. It means the software creates a new PDF file for each MSG contact during conversion. It doesn't want to give you the trouble to waste your precious time by converting and saving your thousands of contacts in a single PDF file.
Troubleshooting FAQs
I have not installed Adobe Reader then how I can read PDF file?
If you have not installed Adobe Acrobat Reader then you are not allowed to view PDF files because the PDF file can only be opened in this application. Any version of the Adobe Acrobat Reader will be supported by the converted files.
Does it work with Windows New Versions 10?
Yes, it perfectly works with Windows 10, and lower versions like 8.1, 8, 7, etc.
Is there Outlook Installation is necessary?
No, it's not important task to install Outlook in our Machine.
Can I convert emails in MSG format to PDF?
Yes, the software does convert multiple emails in .msg format into PDF.
Client Reviews
"Using MSG Contacts to PDF Converter, I can't believe that it's really an astounding tool. It easily converts all MSG contacts to Adobe PDF without any harm."
Jacob Bernett, United States
"I worked with various conversion tools to suitably convert MSG contacts into Adobe PDF file format, but PCVARE MSG Contacts to PDF converter is best conversion tool."
Damien Waller, Australia
"I had left Microsoft Outlook platform but I wanted to save my Outlook contacts in PDF format. I had not any method then I searched for an accurate solution. Later, I found such solution that converted my entire contacts in PDF file."
JhonSmith, Australia
"PCVARE MSG Contacts to PDF converter removes my problem & smartly convert unlimited contacts in PDF with its batch ability. It helped me a lot to pull me out form the trouble to convert my msg contacts into pdf format. Thanks for its developing team."
Ricky, New York