PCVARE MSG to PDF Converter
Software tool to convert & save multiple Outlook email MSG files into PDF

files
Batch MSG files to PDF Converter tool
Option to Convert emails Attachments as PDF
10 different PDF File naming options available
Adobe Acrobat Reader is not must to be installed.
Supports to convert UNICODE or ANSI MSG files
Supports MSG files of MS Outlook 2016, 2013, 2010, 2007, 2003 etc.
Allows unlimited files conversion, tested on 215000+ MSG files
Supports Adobe Reader 11.0 or other versions to read PDF files
Features of MSG to PDF Converter
Supports all Outlook editions MSG files

The tool is able to read all the MSG files of every edition of MS Outlook (both 32 & 64 bit). There would be no problem for the software to read orphan MSG files. So, if users only has MSG files with them then they do not have to worry as there is an option to convert.
Required Adobe Reader to view PDF files

Adobe Reader is required to view PDF files after conversion of MSG files to PDF and any versions of Adobe Reader is supported by the software – 11, 9, 9.5, etc.
Convert your Attachments as PDF

The tool will convert Attachments easily to PDF without any problem. You don't have to look for another option to convert your attachments the software as the tool is capable to auto-convert attachments.
Supports only Windows Platform

The Software is compatible on entire Windows Operating System – Windows 8.1, 8, 7, XP, Vista, 2000, etc. Thus, it is possible to perform the conversion on any Windows Operating system.
Batch Process Option

The tool has the batch option to select various MSG emails & then migrate this data to PDF at one go. There is also a way to choose single MSG email file & migrate them to PDF one file at a time. Both these options are designed to save time as user can convert the whole folder & can also convert individual file.
Save your Attachments

If your MSG files are having attachments then after MSG files to PDF conversion attached files of emails will be saved securely. No matter what is the size of emails and attached files size is they will be saved embedded in PDF files without any error.
Plenty of File Naming Options

MSG to PDF converter provides 10 File Naming Options to save MSG files in format such as date+ subject, From + Date + Subject ,etc.
Formatting is Maintained

The same formatting is kept as it was before the conversion. There is no difference in the files which are converted with the original files. Each and every formatting will be maintained with the software.
View Screenshots of MSG to PDF Converter
Take a quick look on working screenshots of the Software to know how the software performs msg files conversion. It helps you in getting an idea about how it appears during the whole conversion process-
Working Procedure to convert .msg files to .pdf
Step 1 - Locate & Select MSG Files
— In First Step to convert MSG Files to PDF, Select MSG Files using Single or Batch mode i.e. File or Folder.
— You have one more option available to convert attachments as PDF format, check this option if using Business License
Step 2 - Select File Naming Option
— After choosing MSG Files , select from the given File Naming Options.
Step 3 - Convert MSG Files
— In Last Step, Click on Convert Message button to start the conversion processing and Choose the converted files saving location.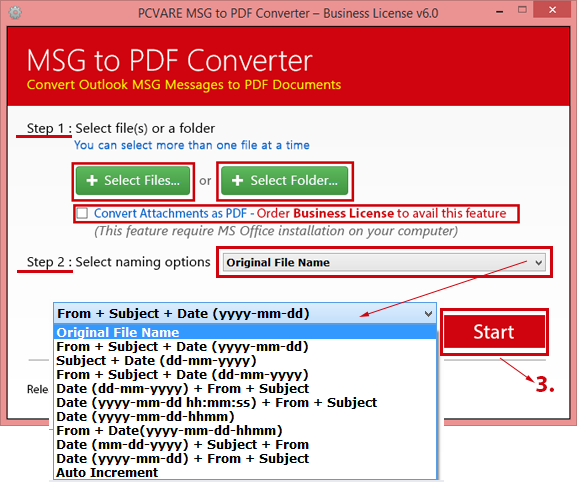 Watch Working Video to Convert MSG Files
Download Demo Version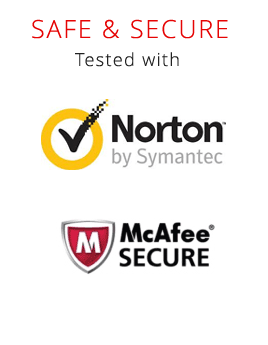 Download Demo Version
Start Downloading Now
Version: 6.5
Product Version - 6.5
File Size - 14.7 MB
Limitation - The trial edition of the software is provided for FREE. Users can check & use the software accordingly so, that they can know the features of the tool. The trial version of tool will allow only 25 files to get converted which is enough for a user to know the working of the software. There is not much difference between the trial version & the full version of the tool as both the versions have the exact features but trial version has only one limitation and that is it only allows migration of 25 MSG files to PDF. There would be also a watermark in the converted PDF files.
Frequently Asked Question about MSG to PDF Converter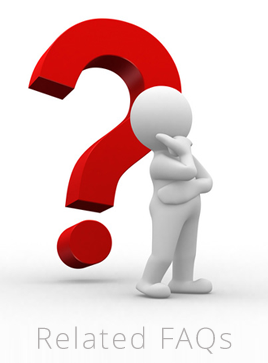 Where the PDF files are saved after conversion?
Software has an ability to provide facility to save converted files at any location. You can browse your desired location to save the data.
Why there is a need to use PDF files?
PDF is a 'read-only' document which is designed in such a way that cannot be edited & if a user tries to edit the PDF file then you will see a footprint. It also meets the requirements in the court of law. There is also no need for extra hardware plus it lets the user to integrate to each network. Security is much required for the users who share their documents over internet. User are able to set password which is very useful at document level. The software which opens PDF file is very to use which is biggest advantage as it makes PDF the most used file format. The government has also named PDF as their file format which makes the file format even more trustworthy.
U.S. federal government is the largest user of PDF file format which makes PDF a long term file format. Another advantage of PDF is that it can be compressed. Imagine if you would have to send files full of papers, then it would be a nightmare for you but with the help of PDF you can do it easily by compressing them.
How I can save my time to access a particular mail having bulky data in converted PDF file?
You should not be worried about this trouble. This tool gives 10 different options by which you can rename your any file and reduce your traversing time to find a particular file. Even though, this tool also generates a separate PDF file for each Outlook email.
Will it convert MSG to PDF with attachments?
Yes! The software can convert MSG to PDF with attachments and embeds all the attachments in the resultant PDF files and also saves them in a separate Folder.
The attachments are not visible in PDF file. What should I do?
If attachments are not visible then click on this image to locate attachments embedded within the PDF file.
How Can I Convert Outlook 2013 files in PDF?
Open Outlook 2013 or any edition and Select file which you want to save as .msg. Then drag & drop them at any location or folder. You will see the format of dragged email is in .msg and then you can use the software for MSG into PDF Conversion.
If I have .doc attachments, will the software save them too in PDF?
No, The Software will not convert attachments into PDF format. It converts only MSG files into PDF and the attachments will remain save in previous .doc format.
Testimonials
I was having problem with my MS Outlook so I timely took backup of my MSG files. There were lot of MSG files & I was getting tired while converting them one by one as it was a hectic process. So, I was looking for some other which would help me complete my conversion within minutes. I began my search for a tool but that failed completely, then I found a blog which took me to this software & after that everything is so easy. I have never felt conversion process so easy.
Danial (Spain)
"I used the PCVARE MSG into PDF Converter Software that is really easy tool convert MSG files to PDF. I wanted to convert my attachments separately from PDF then it also solved it and provided conversion of MSG files to PDF quickly and also saved attachments in separate folder."
Damien Waller, Australia
"Using this tool of PCVARE, I could overcome from big trouble to convert my 8000+ MSG files to PDF. It worked smoothly and provided instant conversion result without missing any data."
Jacob Bernett, United States
I used this tool to convert .msg files into .pdf. Really it is wonderful program for msg into pdf conversion. I was able to convert MSG files data to PDF without any issue.
Rosy (United States)