PCVARE MSG to vCard Converter
Tool to Convert multiple Outlook MSG Files into vCard File Format
No file size limitation: Tested on 17200 samples
Convert both ANSI & UNICODE MSG files to VCF
Convert multiple contacts in MSG format to VCF file
Create single VCF file for each MS Outlook MSG file
Supports all MS Outlook version (32 & 64 bit) 2016, 2013, 2010, etc
MS Outlook installation is not needed to convert MSG to VCF
It works with various popular email clients - Outlook, Lotus Notes, Mac Apple Mail, Outlook Express iPhone, Smartphones etc
Specifications of MSG to vCard Converter
Convert Contacts in Batch Mode

The MSG to vCard fie converter allows you to save multiple Outlook MSG files into vCard .vcf file in batch. In single mode you can select MSG files one by one and In Batch mode you can select entire folder having multiple MSG files in it at once.
Supports all vCard based email client

Once the software convert, MSG files into .vcf files it can be further used and supported by multiple applications like: MS Outlook, IBM Lotus Notes, Apple Mail, Outlook Express, i-phone, smart phones etc. There will be a single .vcf file for each .msg file.
Save All Contact Details

It can simply convert contacts in MSG files to vCard with all the associated information like: name (first, last, middle), numbers (mobile, phone), address (office, home), email id, notes, certificates, activities, websites, etc.
Save all Contacts with Images

The software efficiently converts every contact details and if user have any images to import, then it also supports to import MSG contacts with the photos and pictures into vCard files
Supports all Windows Applications

This software is a Windows based tool, hence it is workable on almost all Windows OS. It is compatible with all Windows Operating System- Windows 8.1, Win 8, Win 7, Win Vista, XP, 2000, etc.
Supports all Outlook edition

It also offers opportunity to convert Thunderbird emails into Mac Mail. It convert Thunderbird emails to MBOX then import Mac OS machine mail by pen drive, to view emails in Mac Mail.
Screenshots of MSG to vCard Converter
For complete Conversion, get the full software which would be the most simple and effortless solution at hand. Firstly, analyze the software from its screenshot to know about its appearance along with its working. Click to enlarge some Screen shorts-
Working Procedure for MSG to vCard Conversion
Step 1: Add MSG Files from any of the two modes
Add MSG file(s): This option helps to select MSG files one by one. To choose multiple MSG files at a time, Press Ctrl+Click on msg files).
Add Folder having MSG File(s): This option helps to select MSG Conatcts Folder for one time conversion processing. It can save your time from single conversion processing.
Choose the option which is useful for you to Select EML files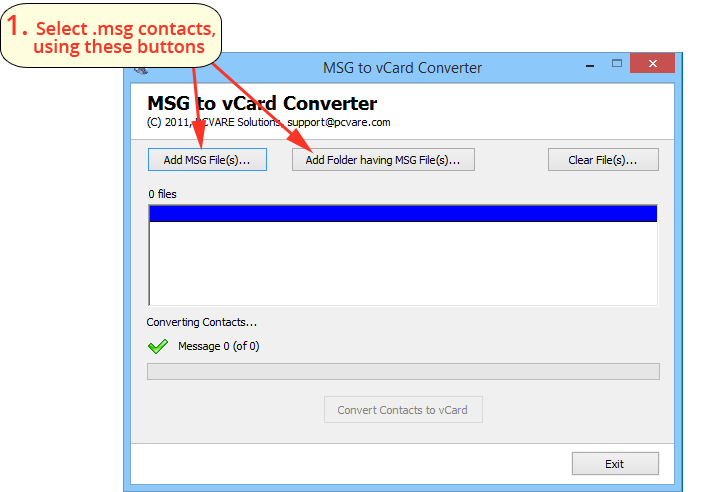 Step 2: Verify List & Click on Convert
After choosing MSG files, check MSG Contacts List to know whether the required files are selected or not.
Finally, click on "Convert Message" button to start the conversion processing. You will be prompted to provide a location to save the converted MSG files on your local machine.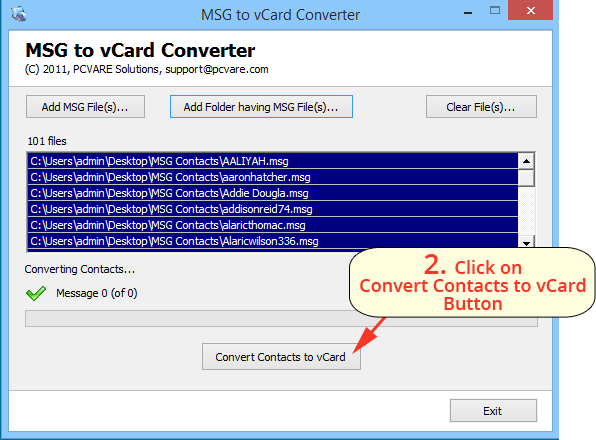 Step 3: Process of MSG to vCard Completed
The conversion of MSG to vCard (VCF) takes a few minutes to complete and once it finished; an alert message will be generated.>
To view the MSG files you can simply use any of the popular email clients - Outlook, Lotus Notes, Mac Apple Mail, Outlook Express, iphone, smart phone, etc.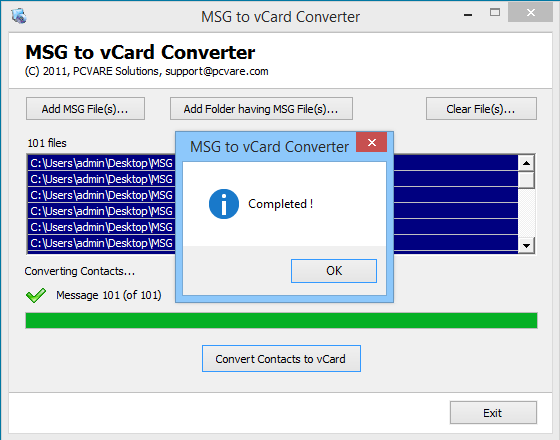 Watch Video for MSG to vCard Conversion, Working Steps
Get Trial to Convert Outlook MSG Contacts to vCard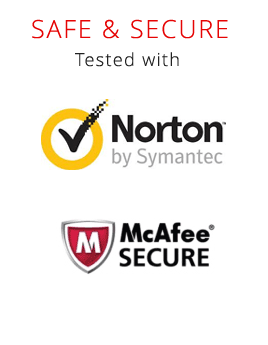 Download Demo Version
Start Downloading Now
Version: 2.8
Product Version - 2.8
File Size - 4.26 MB
Limitation -The Demo Version helps you to understand complete working process of the software and this demo facility of MSG into vCard is helpful to convert 10 MSG files into vCard file format.
Frequently Asked Questions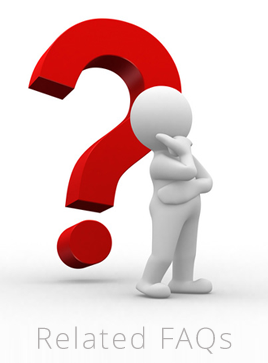 Generic FAQs
What is the process by which we can get MSG Contacts?
MSG Contacts are generated in Microsoft Outlook that provides Address Book Manager containing several contacts. MSG Contacts are found by-
By applying Drag & Drop method on a contact.
Will the software help me to move my Outlook contacts into Mac Mail?
The software is able to convert Outlook MSG contacts into vCard format that is viewable on various platforms. Mac Mail also supports this format to read contacts.
Troubleshooting FAQs
Does the software support MSG file of Outlook 2013?
Yes, the software supports to convert MSG files of Outlook 2013 and all below version (32-bit only) without a problem.
Can I open the vCard file in any VCF format Supportive email client?
Why not, you can view the vCard files in any VCF supportive email clients like: MS Outlook, Lotus Notes, Outlook Express, i-phone, smart phones, etc.
On which operating System can I perform the Conversion?
All Windows operating System is suitable for performing the conversion of MSG to vCard. You can use Windows 8.1, 8, 7, Vista, XP, etc.
Will the software convert MSG files which contains photos to vCard?
Yes, you the software convert MSG files with photos into vCard. This tool is very well equipped to convert the MSG contacts with complete details into vCard.
Client Opinion
"When I used MSG to vCard Converter, I was delighted by converting a huge collection of MSG files to vCard (VCF) format at once without any trouble. This is such an easy program providing me the guidance for how to perform MSG to vCard Conversion"
Robert, Spain
"I am happy with PCAVRE MSG to vCard Converter, it really helped a lot, providing me simple & easy conversion of MSG files to vCard format without wasting any time."
Maria, England
Firstly I didn't trust on the solution but after using the PCVARE Tool I can surely say that it is perfect method to export MSG contacts into vCard.
Roy (Scotland)
The MSG into vCard emails conversion tool is easy and I am very happy after using the tool because it solved my major trouble about How to convert MSG files into vCard.
Robbie (France)