PCVARE Restrict PDF Software
Apply User Password & Owner Password protection to any PDF Document.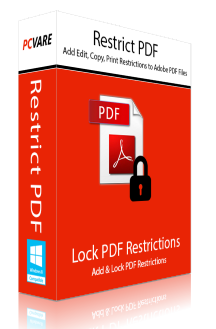 Protected PDF from unwanted access
Lock PDF file with user password protection
Restrict printing copying & editing of the PDF file
No changes done to the PDF content
Restricts PDF created from any Adobe edition
Restricted copy of the PDF file created, original is kept intact
Anyone can use with no problem at all
Windows 8 supportive product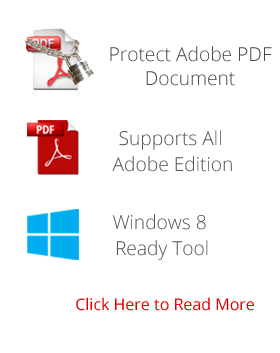 Features List – Restrict PDF Software
Apply User/Open Password

You can apply user password protection to the document to stop anyone without the knowledge of password from opening the document. You can apply any password which you find easy to remember.
Restrict PDF file Printing

You can restrict printing of the PDF by selecting "disable printing" setting to the document. Once it's applied if any one tried to print the document they will encounter with the following message "printing not allowed".
Restrict PDF Editing

Do not want others to change the content of your PDF, than use "disable editing" option, not even in PDF editor anyone would be able to change a single data of your document.
Apply Copying Restriction

Use the "Disable Content Copying" option if you need to block others from copying any text or data from your PDF document.
PDF of all Adobe supported

No matter using which Adobe edition you have created the PDF document with Restrict PDF you can apply protection to any Adobe PDF document without zero trouble.
New PDF files created

When the software applied protection to the PDF it creates its copy & save it with all the protection, so that you can both restricted & Unrestrict version of your PDF document.
No changes to PDF Formatting

The programs advance technology makes sure that during the process of protecting the document none of the data & text of formatting of the document is changed in any way.
Simple & Easy Steps

User will not have to spend much time in protecting the document. This software has one of the quickest & easy procedure, understanding which is not difficult for even a 7th the grade student.
Compatible with all Windows OS

With this software you will get complete compatibility with any Windows operating system – Win 8.1, 8, 7, XP, 98, 97, etc.
Restrict PDF – Screenshot preview
Also have a look at the screenshot of the software. Here you will get to see all the screen of the software which you will come across during the process.
How to Restrict PDF File- Quick Steps
What is the working method of this software? The working description is given below in the instructions which are defined with described images with each option.
Download and Launch the Tool
Using the Restrict PDF software is very easy, to add password protection to PDF document you will need to follow through the 3 steps given below, but before that you have to:
Download & Install the software
And Launch it in your Windows OS from Start » Programs » Restrict PDF » Restrict PDF
Step 1: Browse PDF Document
Browse & select the PDF file from the store location, in which you want to apply restriction.
Click Browse button
Select PDF
Click OK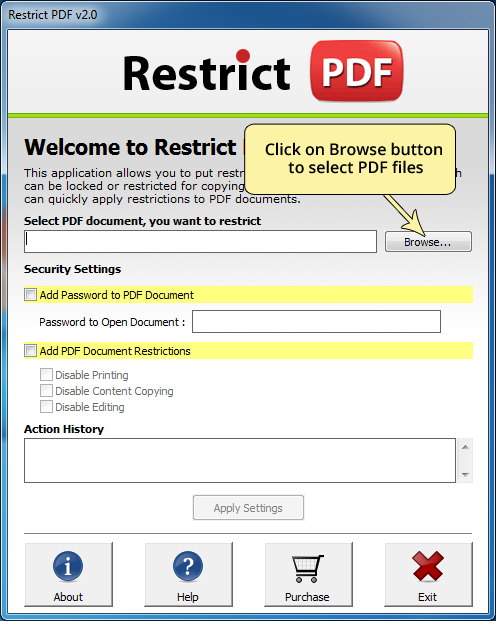 Step 2: Add Passwords to PDF
There are 2 password options available in the software
Add Password to PDF Document: Use this option if you want to restrict others from opening the PDF document. Check on the option & type in the password you will like to have.
Add PDF Document Restrictions: Add PDF Document Restrictions: Check in this option if you do not want others to copy, print or edit your PDF file. Uncheck the option which you do not want to be restricted.
You can also apply both passwords to the PDF file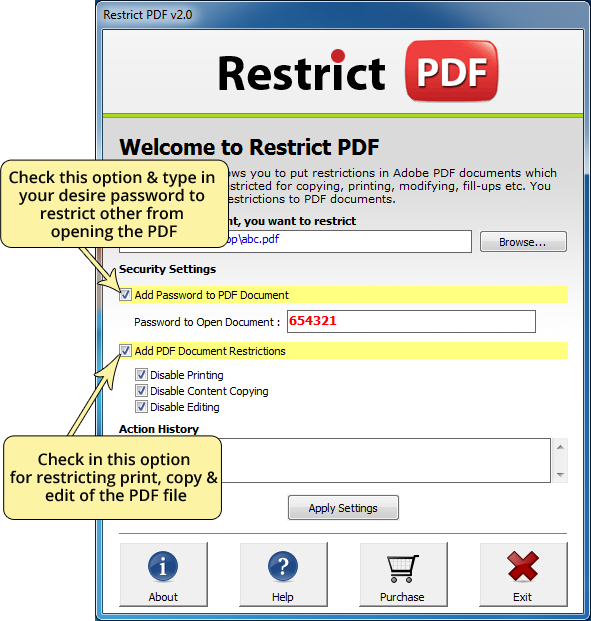 Step 3: Apply Settings
Click on Apply Settings button to apply all the settings to the PDF document which you have choose. In second the file will be locked with protection.
You can go to the location where you have the file saved to check whether all the protection settings are working or not. The software will not lock the original document; it will create its copy which will have all the protection.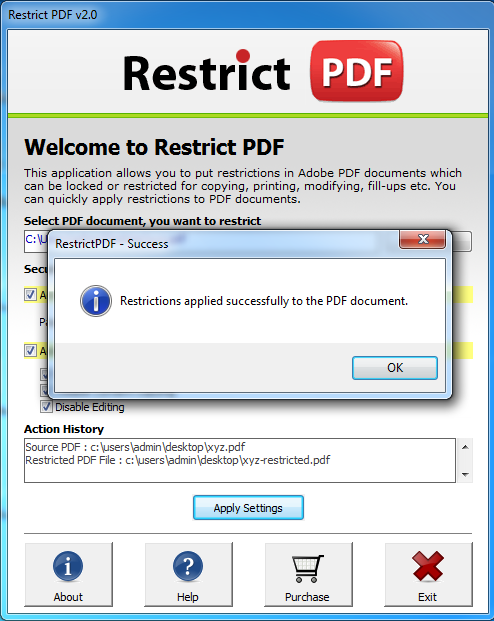 FREE DEMO Edition – Restrict PDF Software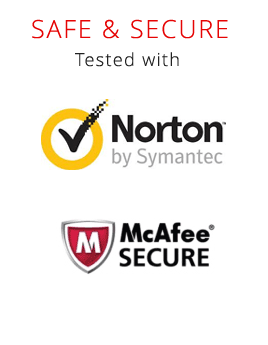 Download Demo Version
Start Downloading Now
Version: 2.0
Product Version - 2.0
File Size - 1.97 MB
Limitation - With the DEMO edition of the software you can apply protection to PDF of size 25 kb not more.
Frequently Asked Question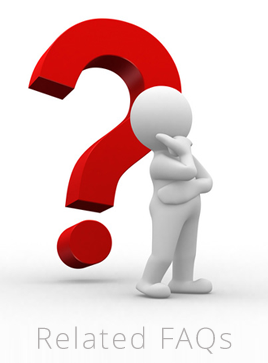 Genric FAQs
What is PDF?
It is a file format used for documentation about any thesis. It is also known as Portable Document File. As its name shows that it can be ported or shared with other systems or other users.
Why the PDF file is used and what it can have?
It is used to make any report that could be for operating system, hardware/software etc. any presentation report, for legal documentation etc. It can have a number of images and graphs without any limitation for its length.
What its download version works?
The tool's download version works same as licensed version. You can restrict your PDF file that is sized up to 25 kb. It is not able to restrict the PDF file sized above 25 kb.
Troubleshooting FAQs
I have an older PDF file but now I want to restrict it. Will this software help me?
It is not an issue. The software can restrict any PDF file that is created in older versions of Adobe Reader.
I only want to restrict content copying of my PDF, will that be possible?
Yes that will not be problem, you just to select disable content copying & leave the rest options uncheck. The software will only restrict others from copy any content of your PDF, while it will allow you to edit & print the document.
Need to protect to PDF file, but do not have Adobe Reader Install.
No issues at all, you can easily add protection to PDF document with Restrict PDF even if you do not have Adobe Reader install in your system.
Will the software support PDF file created with any Adobe version?
Yes you can use this software to protection PDF document created with any Adobe edition up to 9 versions.
Can I use the tool on Mac OS X?
Can I use the software in Windows 8.1 version?
That will not be a problem; you can very easily download & run the software in Windows 8.1 machine. This software completely supports all Windows edition & you can add restrictions to pdf in any Windows machine.
Client Reviews
"I use to be very worried about the protection of my PDF document data, but not anymore now I have Restrict PDF to help me protect my document. Now only the people who know my password can open the document, others are not allowed."
Peter, Denmark
"A friend suggested that I use Restrict PDF tool which will protect my document content & found that it already started to work. "
Joseph, London
Thanks to PCVARE for giving perfect tool to restrict PDF file. It works immediately and provides cent percent outcome.
Amontiyan (New York)
It's been sometime I had not come across any of my writing use by others. Thanks to this tool.
Maddona (France)