PCVARE Thunderbird Converter
Convert Thunderbird multiple emails to PST, EML, MSG, HTML, PDF, RTF, MBX, EMLX & MBOX file formats
Unlimited File Size Conversion is possible
Supports all the versions of Thunderbird 31.0 & all
Convert Thunderbird emails alongwith attachments
Maintains Thunderbird folder structure during migration
Export & Save Thunderbird emails in Batch and will Auto-Detect Files
Supports all MS Outlook 32/64 bit editions to Export Thunderbird to PST
Open Converted mbox file in 17+ email clients - Entourage, Earth Link, DreamMail, Outlook Express, Outlook, Windows Live Mail, Apple Mail, Adobe Acrobat Reader, Wordpad, Web Browsers
Specifications of Thunderbird Converter
Thunderbird emails to Adobe Reader

Tool would be able to convert Thunderbird emails to the PDF file format. The users can now easily export Thunderbird email to Adobe Reader by choosing PDF format as your desired option.
Thunderbird emails to Microsoft Outlook

It can smoothly convert emails from Thunderbird to Outlook (32 & 64 bit) 2016, 2013, 2010, 2007, 2003, 2000, etc and also supports new PST & Default PST Option to save files of Thunderbird emails, after conversion.
Export Thunderbird files with elements

Easily Export Thunderbird along with email properties – Read Status, Header Details (to, cc, subject, bcc, time & date), unread status, etc.
Batch Conversion Mode is available

The program has dual option (batch & single) to convert selected Thunderbird file or convert multiple Thunderbird emails in single conversion process.
Convert Thunderbird to Mac Mail

It provides solution to move messages from Thunderbird to Mac Mail. The software convert Thunderbird data into MBOX then export Mac OS platform through external device - pen drive, to view data in Mac Mail.
Copy emails to Windows Mail/Live Mail

It can easily convert Thunderbird emails to Windows Live Mail or Windows Mail by choosing EML format.
Transfer Thunderbird to Outlook Express

By Thunderbird files to EML Conversion of the tool, you can also get Thunderbird emails into Outlook Express. Export Mozilla Thunderbird Mails to Outlook Express to know more click.
Emails Thunderbird Conversion to Multiple Apps

Migrate Thunderbird emails to PST (Microsoft Outlook), EML (Windows Live Mail, Outlook Express, Windows Mail), MBOX (Thunderbird), PDF(Adobe Acrobat Reader), MBX(Eudora), RTF(Wordpad), EMLX(Apple Mail, Entourage), MSG(MS Outlook, Forensic Tools).
Simple Steps to use it

It have few easy steps which can be use by any user, non-technical (home) user or technical (organization) user. It is completely safe from any virus attack.
Working with any Windows OS Machine

It supports any Windows Platform – Win 10, Win 8.1, Win 8, Vista, NT, 7, XP, ME, 2000, etc. Anyone can use it on entire Windows Application.
Screenshots of Thunderbird Converter
For getting complete Thunderbird emails Conversion outcome, the Thunderbird Mail Converter is BEST solution. Have a look at the screenshots of the software which is helpful to know about How does it look-
Working Procedure for Thunderbird Conversion
Step 1 - Locate Thunderbird Files
— For Thunderbird emails migration first select Thunderbird files or orphan Thunderbird files and the software provides you with given two options:
Select folder .mbox files(s): This option is a batch mode, by clicking on this option it will auto-detect and takes you to the Thunderbird profiles and then you have to click OK and all your Thunderbird files would get opened. This method saves time and is very fast.
Select .mbox files(s) :Through this option the user can choose one file at a time. Now users have to manually go to the location of the Thunderbird files and then select individual files. If you are selecting single file with this option then you will have to choose [*.*] this option or otherwise if you have orphan files then you have to choose [*.mbox].
Step 2 - Choose Saving File Options
— After the software has auto-detected your Thunderbird files, the next process is that the software provides you with 9 conversion options such as MSG, PDF, RTF, MBOX, EMLX, PST, MBX, HTML, PST. Choose your desired format and click on convert.
Step 3 - Select Saving Location
— Now the users have to select the saving location of the files, if you want to convert. After selecting the saving path, choose any file naming option to save files and then click on OK to start the conversion.
Step 4 - Complete the Process
— The software will start with the conversion process and after the process is completed and a new pop-up window would appear showing successful conversion.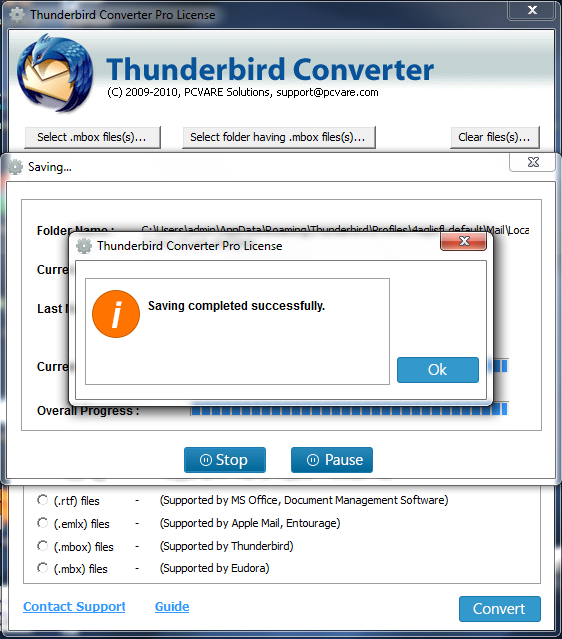 Watch Video to Convert Thunderbird Emails
Download PCVARE Thunderbird Converter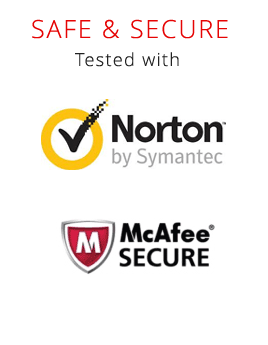 Download Demo Version
Start Downloading Now
Version: 7.4
Product Version - 7.4
File Size - 17.9 MB
Limitation -Trial Edition Limitation -Trial Version works for free & only 25 Thunderbird emails conversion into PST, EML, MBOX.
Frequently Asked Question about Thunderbird Conversion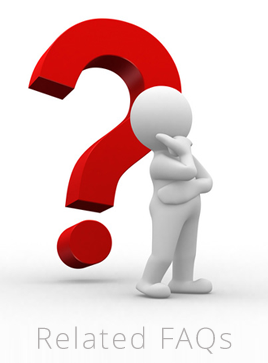 Generic FAQs
What is Thunderbird?
Mozilla Foundation provided Thunderbird email app to manage data and send/receive mails. It is designed with many additional features - Message management, junk filtering, etc. It supports .mbox extension for saving emails.
How to get MBOX file from Thunderbird?
For getting .mbox files from Thunderbird, follow the given data -
Open Thunderbird then go to Tools Menu » Account Settings
Select & Copy the storage location path of Local Directory given in right panel
Now paste the selected path in Address Search Bar.
Rename the files with .mbox extension which are available without any extension like- Inbox – Inbox.mbox
Why Should I use Thunderbird Converter without having bulky data?
Thunderbird doesn't have any export option for converting emails so the software is created for your help to sort out the conversion issue.
Troubleshooting FAQs
Is Thunderbird Installation compulsory to convert Thunderbird emails?
No, Thunderbird installation is not compulsory; it only requires Thunderbird mails for conversion. If you have Thunderbird files & do not have Thunderbird Application install then also you can use it.
Is it compatible with Windows 10 and MS Outlook 2016 edition?
This software can work with entire Windows machine and also supports entire Outlook edition so it can easily convert Thunderbird data to Outlook 2016, 2013, etc on Windows 10, 8.1, etc.
Can I convert my 20GB+ Thunderbird emails to PST in one time?
Yes, you can convert any number of Thunderbird file folder at one time. You need to browse the Thunderbird emails folder using the Add folder having Thunderbird files button for using batch Thunderbird conversion.
Can I convert Thunderbird file into Mac Apple Mail?
Yes! You can convert Thunderbird emails to Apple Mail. Run this software on Windows 7 OS and convert entire Thunderbird files into MBOX format then you can get entire converted mbox emails into Mac OS machine using pen drive. And then import MBOX emails into Apple Mail without any trouble. Go with File menu » import mailboxes » other or mbox files » messages
Client opinion
"The Software is well-suited conversion program. I was facing trouble to convert Thunderbird emails to Windows Live Mail but after using the software, I could get entire Thunderbird emails to Live Mail with entire details. Its processing is so simple."
BarDen, Spain
"Thunderbird Converter is easy and perfect solution for Thunderbird conversion. It helps to properly convert Thunderbird files to Outlook. I used it for Thunderbird to PST Conversion and I achieved complete conversion processing in few minutes. Thanks PCVARE to support me for giving exact conversion solution without any trouble."
Danior, England
I tried to convert Thunderbird emails to Outlook by many tool but I didn't succeed & then I used the PCVARE Tool that is very good and provided complete emails conversion solution from Thunderbird to Outlook.
Jhon Mathew (New York)
I used the PCVARE Thunderbird Converter to transfer Thunderbird emails into Mac Mail and I got complete conversion solution within few minutes. Really it is very good for Thunderbird emails conversion with all details.
Rosy (France)