PCVARE Unrestrict PDF Software
Removes Owner/Permission Password from PDF to Copy Edit Print PDF document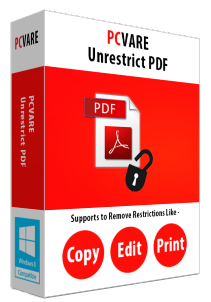 No Adobe Acrobat Reader installation required
No File Size Limitation to remove PDF password
Allows to Print, Copy & Edit Adobe PDF Document
Takes around 5 seconds to remove owner password from PDF
Removes restrictions of PDF file with Adobe edition up to 9 version
Keeps an exact document & creates restriction free copy of the PDF
Features List – Unrestrict PDF Software
Remove Owner Password Restriction

Owner password restriction locks copying, editing & printing of the PDF document. With this tool you can remove PDF restrictions without a problem and your will be permitted to copy, edit and print content of the Adobe PDF.
Create New PDF File

When the software unlocks the PDF document, it does not overwrite the original file. It creates a copy of the same document & removes restriction from it. In simple word you will have the original restricted PDF document & a copy of it without the restrictions.
Remove Printing Restriction

Are you getting the "message printing not allowed"? Your PDF is restricted & you can remove it using this software in seconds only & print PDF files easily.
Remove Editing Restriction

Cannot edit single data of PDF, means the document editing function is blocked. Using this program you can easily remove the editing restriction & start making changes to the file.
Remove Copying Restriction

Tool will also remove copying restriction from PDF, you can easily copy text & data from the document once the protected is lifted.
Supports PDF of all Adobe Edition

No matter using which version of Adobe PDF (up to 9) you have created the PDF file, this tool will unlock it nevertheless. It even unlock 128 or 256-bit encryption PDF files.
Does not changes the formatting

It's likely that your PDF File have some formatting (background, design, images, hyperlinks, color, font, etc), tool does not makes any changes to the documents formatting while unlocking PDF document.
Adobe Acrobat Reader no Required

Best thing of this tool is that you do not require having Adobe Reader install in the system to Remove PDF Restrictions. Adobe Reader is only needed to read the document, our tool works without it finely.
Easy interface

Using this tool is very simple, only few steps are needed to be followed in order to have a smooth & quick conversion. Within 5 seconds you will have your Adobe PDF document free from permission password protection. How to Unlock PDF Document?
Fully supports Windows OS

Use it in any Windows Machine – Windows 10, XP, Vista, 7, 8, 8.1, 98, 97, etc. The product is entirely Windows based.
Screenshot view of Unrestrict PDF
Through the screenshots of the software the complete working of the product has been explained. It also helps you to get acquainted with the look & working of the software.
How to Remove PDF Restrictions- In Brief
Easy steps to Unrestrict a PDF file to allow the actions like – copy, edit, and print. These steps are given to help you to do it manually after installing the software.
Download and Launch the Tool
To start with, first of all you need to have the software downloaded & install in your system. Once it's done, follow the easy steps provided below to remove owner password from PDF documents.
Launch the application from Start » Programs » Unrestrict PDF » Unrestrict PDF
Step 1: Browse & Select PDF File
In the first screenshot of the software you can see that there is a browse button available to select PDF file from which you want to remove restriction. How to select PDF? Follow the steps given below.
Click on Browse button
Select Adobe PDF file
Click on open buttons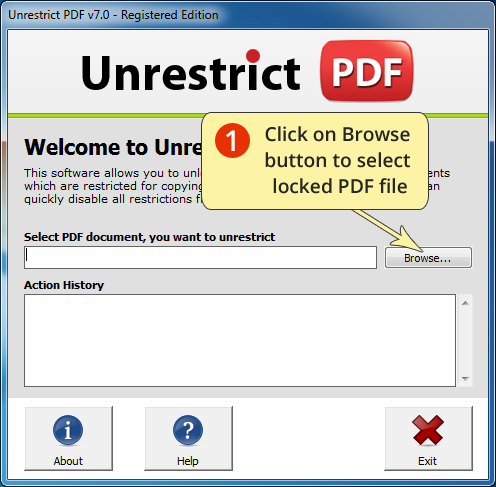 Step 2: Click on Unlock
Once the selection is done you will get a new Pop-up windows with the message :
"If your PDF file requires a password to open it then, please input the password below to open the PDF document for removing restrictions. If no password is set then, click Unlock to quickly Unrestrict PDF file."
If user password protection is applied to the document then check on use password to open document. If you had not applied User Password protection then leave it blank & simply click on Unlock button.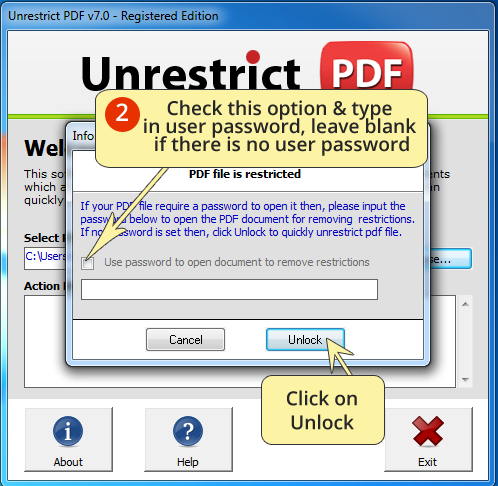 Step 3: PDF File Unlock - Complete
In seconds you will have the PDF document unlocked.
By default the software save the Unrestrict PDF in the same location where the restricted file is saved.
You can go to the location where the original PDF document is saved to view the Unrestrict PDF document & without a problem copy, edit & print it.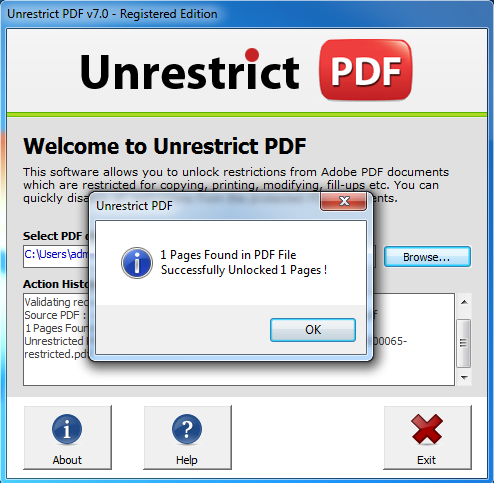 Watch Working Video
Learn working procedure of the software to Unrestrict PDF file by this given video.
FREE DEMO Edition – Unrestrict PDF Software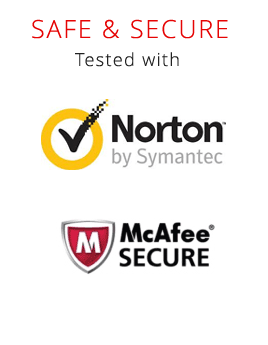 Download Demo Version
Start Downloading Now
Version: 7.0
Product Version - 7.0
File Size - 1.19 MB
Limitation - Demo will only show whether the PDF Document have owner password restrictions or not. It does not remove owner password restriction from PDF Documents.
Frequently Asked Question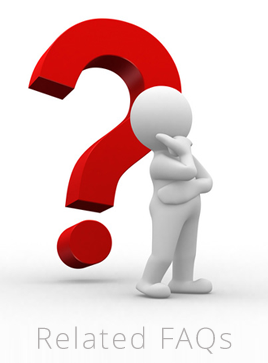 How can I check if the document has restriction or not?
If a document has permission password restriction then there will be a Lock Icon on the left hand side of the document. You can also download our demo edition to check that, demo is for free.
If the document has permission password restriction then you can opt for the License version of Unrestrict PDF. If there is no restrictions then check your PDF Editor for any fault.
Will the tool removes both user & owner passwords from Adobe PDF?
It only remove owner password from PDF files, it will not remove user password from PDF. If your document has both passwords, then the software will ask you to provide the user password first then you can remove the owner password protection from it.
Having Adobe reader install is necessary?
Do not worry; it will definitely remove owner password restriction from PDF document. Having or not having Adobe Reader is not a problem.
Client Reviews
"I had problem with restricted pdf documents for long, but PCVARE has provided me such an amazing solution that now I never have any issues with copying or editing PDF files."
Dakota Roberts, Spain
"I used the software to remove restriction from PDF files. Also like to give a special mention to the support team for being with me at each level. "
David Tucker Germany
For me there could not have been any other solution, Unrestrict PDF gave me instant solution to remove restriction from PDF document. Thankfully now I can edit and take printout of my document without a problem.
Amandon (New York)
Thanks PCVARE, using the solution I got complete satisfaction about how to unrestrict PDF file in few seconds. It really worked with perfect process.
Macallason (France)