PCVARE WAB Exporter
Export Outlook Express WAB Contacts to PST of MS Outlook Contacts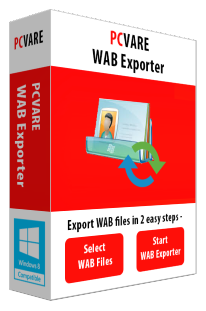 Create new UNICODE type MS Outlook PST file
No File size Limitation: Tested on 12000+ contacts
Supports to export both Default and Orphan WAB file
Tool is compatible with all Windows Operating Systems
Works with all Outlook edition - 2016, 2013, 2010, 2007, etc
Supports all editions of Outlook Express 6.0 & below versions
Allows the conversion for both Outlook express groups & contacts
Convert multiple MS Outlook express .wab contacts to .pst in batch
Specifications of PCVARE WAB to PST Converter
Export WAB to PST with entire Contacts Details

The program convert Outlook express WAB file contacts with its complete detail like – Name, Company, Phone Number, Email Address, Website, Photos, Home Address, etc.
Dual Conversion Option

Choose "default address book" if you want to convert the WAB file from Outlook Express configuration location Or choose "Windows Address Book file" to choose WAB file saved in any other location in the system
Convert Contacts & Group

Using the WAB to PST Converter you can export contacts as well any contact group you have created within the Outlook express into MS Outlook.
Convert Default & Orphan Contacts

Using the Tool users can convert both configured and orphan WAB file. In this way if you have any orphan WAB file from some other machine then software will convert that too into MS Outlook.
Simple User Interface

The software has very simple graphical user interface that means any user can easily use this whether he/she is technical or non-technical.
Support All Outlook Versions

Software can easily convert Windows Address Book to MS Outlook & creates a new PST file of UNICODE type. You can easily open the converted contacts in MS Outlook 2003, 2007, 2010 and 2013 format.
Supports Windows OS Machine

The Software will supports Windows 8.1 and entire below edition like - Windows 7, Vista, XP, 2000, etc.
Screenshots of WAB to PST Converter
Here, you can see few screenshots of the software, if you require any details of the tool; these 3 screenshots would tell you the actual functionality of the software.
Working guide to Export Outlook Express .wab files
Follow the given steps to convert contacts from WAB to PST with a smart procedure that is described below with the screenshots. You can enjoy these steps yourself by downloading & installing the software.
Step 1: Select WAB files
There are two options available to choose address book –
Conversion for Default Address Book – This option will help you to convert configured Outlook Express WAB Contacts to PST.
Conversion for Windows Address Book - This option will help you to export orphan .wab file contacts to PST.
Choose any of the available options which are suitable for you to add the .wab file.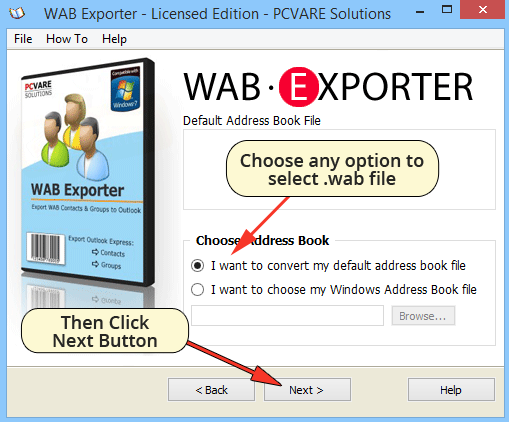 Step 2: Verify List & Click on Next
Now verify list of contacts being added by the tool from the selected .wab file. Then Click on next button.
Now there will appear a new Window with a command "Begin Exporting". Click on it to start the conversion.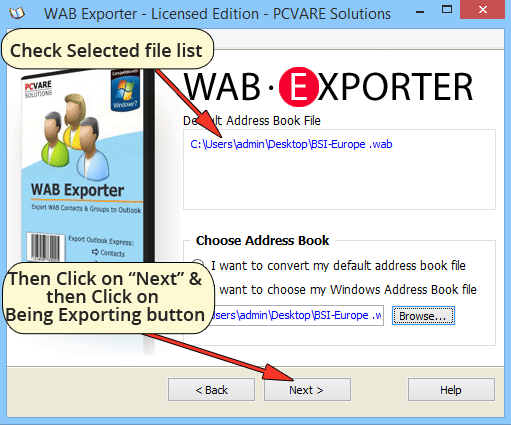 Step 3: Complete Conversion Process
The software will complete conversion process within few minutes and the current status will be shown during the conversion. After the completion of conversion process a message will appear as "Address Book Export Complete" and then you can navigate the converted PST file where you have saved them.
Now import the PST file within MS Outlook with below process - Go to File Menu » Open & Export » Outlook Data File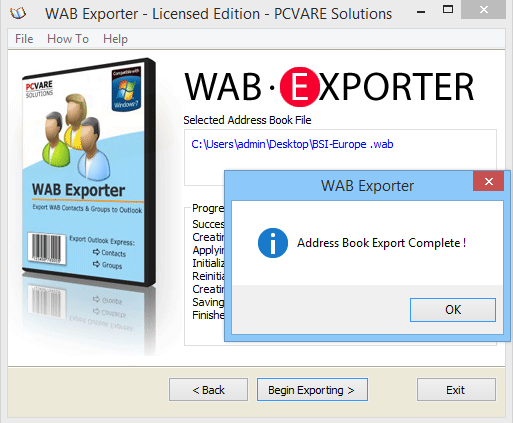 Watch Working Video
To view the complete step by step process, a working video is provided below.
Download PCVARE WAB Exporter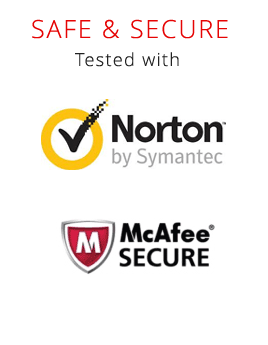 Download Demo Version
Start Downloading Now
Version: 2.5
Product Version - 2.5
File Size - 2.15 MB
Limitation -Free of cost, the demo of WAB Exporter help users to export only first 5 contacts without any trouble.
Frequently Asked Question about WAB to PST Converter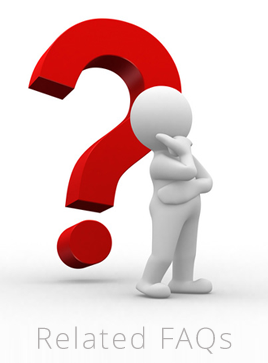 Genric FAQs
What is WAB?
It is an extension to save contacts. In Outlook Express, the contacts are saved in its Address Book with this .wab extension.
How I can find WAB Contacts in Outlook Express?
The contacts are stored in Address Book manager and it can be found at its file store location which is navigated by the following steps:
Go to Tools menu » Address Book
A new window will be opened then
Click on Help menu » About Address Book
Store location will be popped up in another window
Now navigate this location according to the given path, you will find the contacts with .wab extension.
I want to open my Outlook Express contacts in Outlook in same format. Is this possible?
Yes, it is possible because this contacts conversion tool preserves the same manner of contacts by safe keeping of entire associated details with contacts during conversion process.
Troubleshooting FAQs
Is it necessary to have Outlook Express installed?
No, there is no requirement of having Outlook Express installed within the machine to convert WAB contacts to Outlook.
Does it also export the contacts images?
Yes, the software very proficiently exports contacts along with all the details including the images.
Does the software will work with Windows 8.1?
Yes, the software will work on Windows 8.1 and all below versions. So first rectify it & see to that your MS Outlook account is properly configured then use the software for converting DBX files to PST format, guaranteed it will work afterwards.
Client Reviews
"Before PCVARE WAB Exporter, I had faced many difficulties in order to convert contacts to MS Outlook. Today, I'm free from this problem I could only say thanks for this software that has easily re-solved my problems."
Roberts, Spain
"Without wasting any time, I am able to simply convert both contacts & groups of my Outlook Express profile using WAB to PST Exporter. This is a really good solution for me."
William, Germany
Really It is amazing tool to export WAB contacts into Outlook 2007. I got 100% conversion solution Thanks.
Nick Abbott, Austria
WAB Importer tool is quick solution to export Outlook Express contacts into Outlook. I enjoyed its processing which is very simple.
Dimitri Salvoski, (Russian)