PCVARE Windows Mail to Mac Mail Converter
Use Advance Techniques to Convert Windows Mail/Live Mail to Mac Mail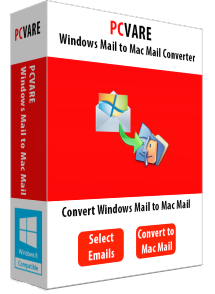 Batch Convert Windows Mail Emails to Mac Mail
Convert emails along with Attachment to Mac Mail
No File Size Limitation: Tested on 17,000+ messages
Supports Windows mail as well as Windows Live Mail
No email application installation required for conversion
Supported by all Windows OS: Win 8.1 & below versions
Easily Import MBOX files in all Mac OS editions-
Xv10.3, Tiger, Leopard, Loin, etc
Key Features of Windows Mail to Mac Mail Converter
Keep all attachments Intact

It can simply saves emails of Widows Live Mail to Mac Mail Converter along with the associated attachments files. It will keep the attachments embedded with the emails.
Use Batch Conversion Facility

With batch option you can convert thousands of emails of Windows 7 Mail into Mac Mail at one time without missing any information. The software provides you ADD folder option to make the batch conversion even easier.
Create Similar Folder for Emails

The software converts Windows live Mail to Mac Mail by keeping the name of previous email folder as it is. Like the email in inbox will be converted and saved in inbox, outbox in outbox, drafts in drafts, etc.
Save all text formatting

The program saves entire formatting of emails like: layout color, font size, font style, draft, hyperlinks, inline images etc.
Also convert orphan EML to Mac Mail

The Software can convert configured Windows Mail or Live Mail emails to Mac Mail as well as the orphan EML files; which you have saved at any another location or pc.
Supports to save entire Meta Elements

It converts Windows Vista Mail to Mac Mail with complete email metadata like: from, to, bcc, subject receiving date, sent time, email addresses, attachments etc.
Supports all Mac Mail versions

It supports all Mac Mail versions to import mbox files into Mac Mail - Xv10.3, Tiger, Leopard, Loin, Snow Leopard, Mountain Lion, etc.
Workable with all OS

It can easily run with all Windows Operating System like-Windows Vista, XP, 98, 7, 8 and 8.1 on both laptop and desktop machines.
Screenshots for Windows Mail to Mac Mail Converter
The Screenshots of the software helps you to know the complete conversion of this Software. It provides you a quick look at Software working.
Working process to Convert Windows Mail to Mac Mail
Step 1: Choose &amp Locate Emails
Add Windows Mail file(s):This option will help you to select Windows Mail files separately for conversion or press Ctrl+Click on EML files to choose several Windows Mail files at a time.
Add Folder having Email Files(s): Choose entire Windows Mail emails folder at once using this option, it saves your lot of time.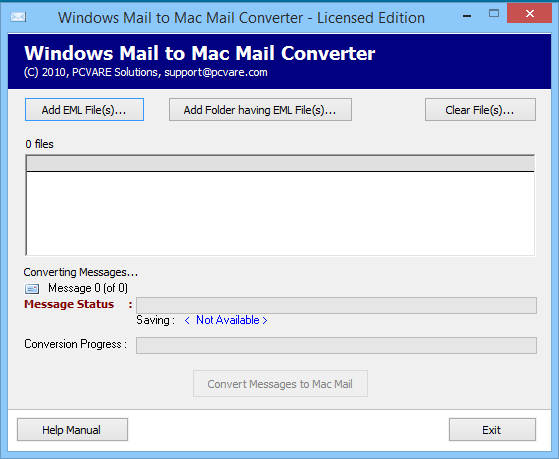 Step 2: Verify List & Convert Emails
Check the Windows Mail files List that all emails are listed or not, then
Click on Convert button, after that a new Window will open and prompt you to provide location for saving the emails after conversion. Next, select any location to save converted Windows Mail emails and conversion will start.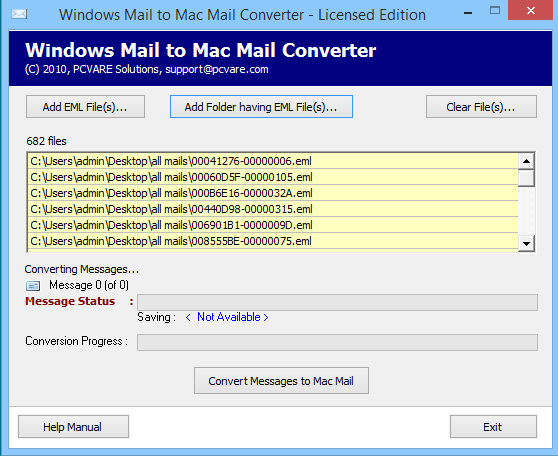 Step 3: Conversion Process Complete
As the process completes, it will show you an alert message.
The Windows Live Mail to Mac Mail Converter works smartly to convert emails of Windows Mail/ Live Mail to mbox without any error. It takes short span of time for converting emails in batch.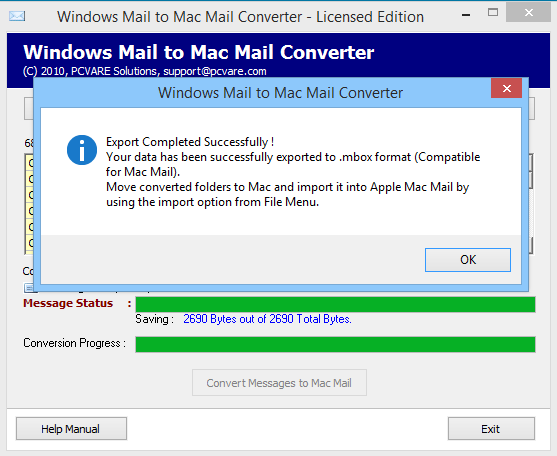 Download Process to Convert Windows Mail Emails to Mac Mail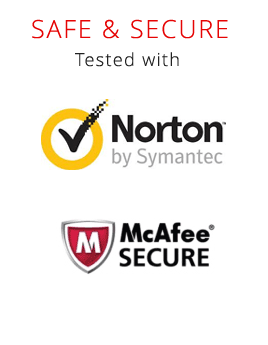 Download Demo Version
Start Downloading Now
Version: 2.4
Product Version - 2.4
File Size - 1.23 MB
Limitation -The demo version of the software helps you to know about the effectiveness of this tool and the complete conversion process and it can convert 10 first emails.
Frequently Asked Questions about Windows Mail to Mac Mail Converter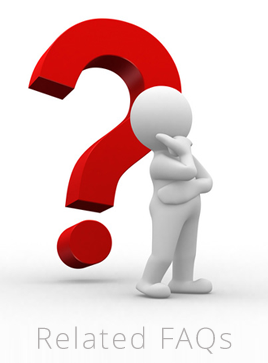 Generic FAQs
How to get EML files from Windows Mail?
The EML files are stored in the storage location that can be accessed by the given path:
C:\users\ (your user name)\ AppData\Local\Microsoft\Windows Mail\Local Folders
I have lots of Windows Mail files in several folders. After conversion, I want to keep the same structure. Will it remain?
Of course, this software will keep your mails' exact folder structure in which they are stored before conversion.
Does this software work on Windows 64-bit OS configured machine?
No, it doesn't work on 64-bit Windows operating system. It is especially designed to run on 32-bit OS configured systems.
Troubleshooting FAQs
Is it possible to Convert Windows Live Mail (Windows 7 OS) to Mac Mail?
Yes, it is also possible to convert Windows Live Mail to Mac Mail.
Is the Software compatible with Windows OS?
Yes, the Software can work with all Windows Operating System such as- Windows 8.1, Win 8, Win 7, XP, Vista, 2000 etc.
I have Attachments with emails, will the software convert them?
Yes, the software converts all the attachments along with emails & keeps them embedded within the emails.
Can I convert Windows Mail emails in Mac OS?
No, you cannot convert Windows Mail emails in a Mac OS as this Software only supports Windows platform. So, you first have to convert Windows Mail emails to Mac Mail email format in a Windows OS then transfer them into a MAC OS & view in Mac Mail.
Client Reviews
"I really appreciate the way Windows Mail to Mac Mail helped me to perform email conversion. After working with this software I also realized that it has saved my lot of my time."
Robert, Spain
"Windows Mail to Mac Mail Converter worked perfectly for me to convert large number of emails from Windows live Mail to Mac Mail by its ability of batch conversion at once."
William Hills, Germany
It has converted complete folder at one time without misplacing any information from Windows Mail to Mac Mail
Demain (New York)
I got complete emails from Windows Live Mail into Mac Mail in few seconds. The program is absolutely safe and simple to do it.
Make Duen (France)