Batch Convert DOC to PDF
Convert Multiple or Mass Word Documents to PDF using Bulk Convert DOC to Adobe PDF option.
Try using PCVARE Word to PDF Converter to convert multiple DOC 2 PDF. Word to PDF Tool is one of the most efficient & effective batch doc files to pdf converter solution to perform batch conversion . With this tool users can easily convert hundreds of DOC files into PDF files.
PCVARE Word to PDF is a stand alone utility that do to require any third party tool to perform the conversion. Now easily batch migrate DOC with enitre necessary properties of DOC files like - OLE objects, tables, data, images, graphs ,forms, hyperlinks, formatting etc. smoothly convert, export DOC files of MS Word 2013, 2007, 2010, 2000, 2003, 2002, etc into PDF files easily using this program.

Illustration showing option for Batch Convert DOC to PDF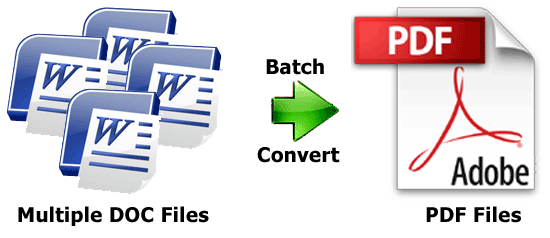 Key functions of Batch DOC 2 PDF Converter Tool
Support batch conversion from DOC 2 PDF
Convert DOC to PDF with its properties - OLE objects, hyperlinks, images, forms, data, tables, graphs, etc.
Convert proper layout HTML & Text.
Works multilingual MS Word files.
Convert DOC files with previous folder structure in PDF.
Works with the conversion of MS Word 2013, 2002, 2007, 2010, 2003, 2000, etc.
Runs on Windows 8, Windows XP, Windows 2000, Windows Vista, Windows 2003, etc.
Download & Buy the Converter tool to batch convert DOC to PDF efficiently & efficiently.